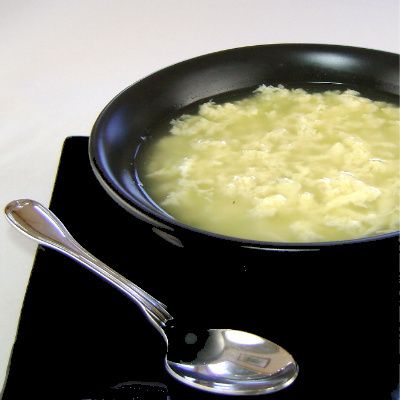 From the kitchen of One Perfect Bite...
This soup makes a delightfully easy and delicious light meal. It is not substantial enough for everyone, but most folks enjoy the soup as a separate course or as part of a larger meal. While this recipe is Roman, the Chinese and the Greeks have nearly identical soups in their repertoires and I sense we'd be in trouble if we try to assign the soup a country of origin. There's not much to this. It consists of a good broth into which eggs, mixed with semolina and grated cheese, are dropped. The eggs are stirred vigorously, causing them to break them into the characteristic flakes or shards that resemble rags. The rags, called straccetti in Italian, are what give the soup its name. Years ago, the soup was eaten at least once a week, but it popularity has waned in recent years. That's a shame. It is a lovely restorative soup. I hope you'll try it at least once. Here's the recipe.
Stracciatella - Roman Egg Drop Soup
...from the kitchen of One Perfect Bite
Ingredients:
2 quarts chicken broth
4 eggs
3 tablespoons freshly grated Parmigiano
1 tablespoon very finely minced parsley (optional)
3-4 tablespoons semolina (optional)
A pinch of freshly ground nutmeg (optional)
Directions:
1) Combine eggs, semolina, grated cheese, parsley and nutmeg in a small bowl. Add a ladle of cold broth and beat mixture lightly with a fork or whisk.
2) Bring remainder of broth to a boil. Add egg mixture all at once, stirring vigorously with a whisk or fork so as to break egg mass into small flakes or shards. Simmer for another 2-3 minutes, stirring constantly, and serve, passing additional grated cheese. Yield: 6 servings.

You might also enjoy these recipes:
Lemon Soup - 400 Calories or Less
Soupa Avgolemono - Living the Gourmet
Chinese Egg Drop Soup - Sea Salt with Food
Mushroom Egg Drop Soup - Simply Life
Stracciatella alla Roma - Memorie di Angelina
Enoki Miso Soup - Indonesia Eats
Avgolemono - One Perfect Bite
Ginger Egg Drop Soup - White On Rice Couple