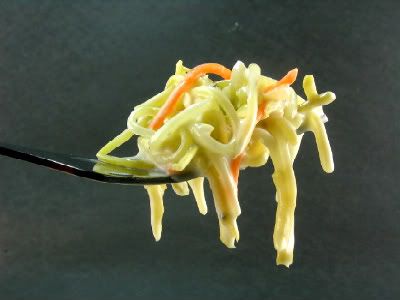 From the kitchen of One Perfect Bite...
When thinking about a salad to accompany a picnic or barbecue, coleslaw is arguably everyone's first choice. It's inexpensive to make and easy to assemble. This version uses a package of shredded cabbage and a simple buttermilk dressing that you can put together in minutes. The dressing is wonderful for any salad. If you'd like to wilt the cabbage before dressing the slaw, put it in a colander, toss it with a teaspoon of salt and let it sit for an hour or so at room temperature. Then rinse it with plenty of cold water and pat it dry. If your packaged slaw contains red cabbage be forewarned that it will bleed into your finished salad if allowed to sit too long. You may or may not want that. Here's the recipe for the slaw and the buttermilk dressing.
Coleslaw with Creamy Buttermilk Dressing
...from the kitchen of One Perfect Bite
Ingredients:
1 (10-oz.) package confetti slaw
2 tablespoons finely minced shallots or scallions
1-1/2 tablespoons low-fat sour cream
1-1/2 tablespoons low-fat mayonnaise
1-1/2 teaspoons white wine vinegar
1/4 teaspoon granulated sugar
1/4 cup low-fat buttermilk
1/8 teaspoon freshly ground black pepper
Directions:
1) Place confetti slaw in a large bowl. Set aside.
2) Place shallots, sour cream, mayonnaise, vinegar, sugar, buttermilk and pepper in a 2 cup jar with a lid. Shake to combine.
3) Pour dressing over slaw and toss to combine. Refrigerate until well chilled. Yield: 4 servings.