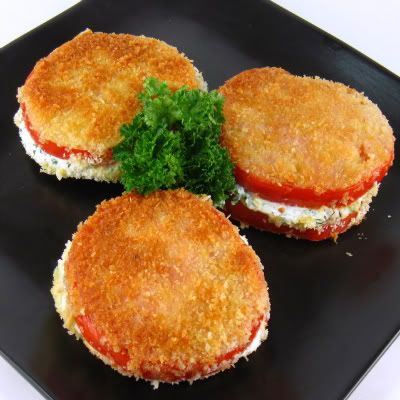 From the kitchen of One Perfect Bite...
I tried to ignore this recipe, but for reasons I don't quite understand I kept coming back to it. I finally gave it a try because I wanted something light and different for a family brunch. It garnered rave reviews, so I thought I'd share it with you. The flavors and textures come in layers here. Thick tomato slices are sandwiched together with a layer of herbed cream cheese before being covered with a crunchy crumb coating and fried in a small amount of butter. The end result is delicious. Large tomatoes, the size of small hamburger buns, are required for this dish. You can vary the herbs to suit the season or your taste. Here's the recipe.
Tomato Brunch Sandwich
...from the kitchen of One Perfect Bite
Ingredients:
4 large round red tomatoes (ripe but firm)
8 ounces cream cheese, room temperature
1 teaspoon minced garlic
1/4 cup Italian parsley, finely chopped
1 tablespoon fresh basil, finely chopped
1/4 teaspoon salt
1/2 cup all-purpose flour
1 large egg beaten with 1 tablespoon water or milk
1 cup Italian bread crumbs
2 tablespoons butter
2 tablespoons olive oil
Directions:
1) Slice tomatoes into 12 half-inch slices, reserving ends for another use.
2) Place cream cheese, garlic, parsley, basil and salt in a medium bowl. Mix well.
3) Spread 6 tomato slices with 2 tablespoons cream cheese each. Top each with another slice of tomato to form a sandwich.
4) Place each sandwich in flour, then in egg wash and finally in seasoned bread crumbs.
5) Heat oil and butter together in a large saute pan set over medium heat. When butter has melted, add sandwiches and fry until both sides are golden brown and crisp, about 5 minutes per side. Serve warm. Yield: 12 sandwiches.
Recipe adapted from
Cook-Off America - Volume 3