David Fankhauser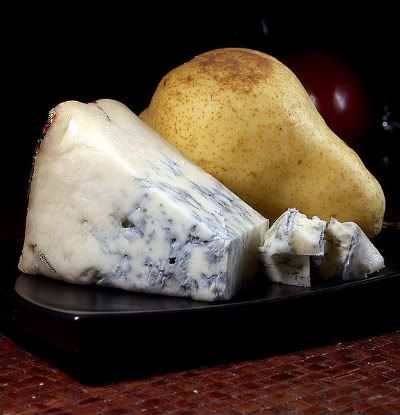 Jon Sullivan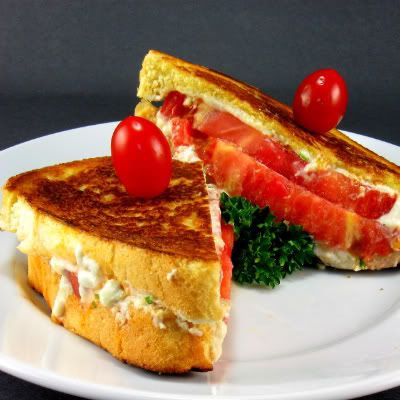 From the kitchen of One Perfect Bite...
Our oldest daughter and her husband slipped away for a few quiet days at the Shakespeare Festival in Ashland, Oregon this past week. Our treat for entertaining the children while they were gone was a selection of cheeses that included a wonderful blue cheese from the Rouge Creamery in southern Oregon. That happened to coincide with the beginning of our heirloom tomato harvest and a freezer filled with wonderful artisan bread and brioche. I'd been hoarding a recipe I found in the Seattle Times from "Mark Bittman's Kitchen Express" for a grilled sandwich that contained thick sliced tomatoes and a blue cheese spread. This was an ideal time to try it. I can happily report I'm glad I did because this is a wonderful nosh. Here is the base recipe for one sandwich. I'm sure you'll want to adapt this to your own tastes, but the original recipe is a delight.
Grilled Tomato Sandwich with Blue Cheese Spread
...from the kitchen of One Perfect Bite

Ingredients:
1/4 cup blue cheese
1 tablespoon cream cheese
1 teaspoon chopped fresh chives
1/2 to 1 teaspoon milk
2 slices good-quality, crusty bread
2 to 3 slices ripe, red tomato
Salt and pepper to taste
1/2 to 1 tablespoon butter
Directions:
1) Mash blue cheese, cream cheese and chives with just enough milk to make it spreadable. Smear a thin layer on each slice of bread. Top with tomato slices, salt and pepper and put bread together to make a sandwich.
2) Heat skillet and add butter. Swirl around pan until melted and pan is coated. Place sandwich in skillet and cook a couple of minutes, until toasted on one side. Press down sandwich gently with a spatula and turn. Cook until golden and gooey.
3) Cut on diagonal and serve hot. (If you're making more than one, assemble them on a baking sheet, brush with melted butter and broil on both sides.). Yield: 1 sandwich.
I'm linking this to
Smiling Sally
for her Blue Monday event.