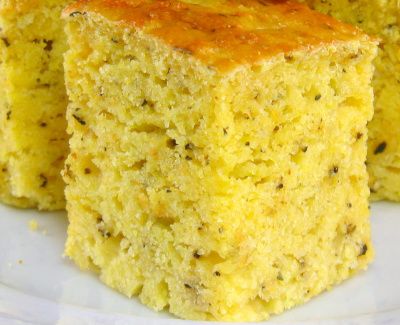 From the kitchen of One Perfect Bite...
Have you ever tried a dessert that purported to be better than sex and found it not to be? Today's bread falls into that category. It's nice, but I it won't make your world stand still - at least it didn't mine. It was so popular at a zucchini festival that event cookbooks sold out and had to be reprinted because everyone wanted the recipe. For better or worse, I have the recipe. Before I go any further, you probably should know I'm a harsh critic. Over the past year, I tested a couple of dozen recipes that never made it to the blog. They weren't popular recipes that were bad, they were risky recipes that didn't work out. There was no reason to needlessly hurt feelings so they hit the circular file rather than the computer. I cussed a little and moved on. Having said that, I must add that this is not a bad recipe, it's simply not a great one. It is, however, enough outside the mainstream to merit some attention, especially if you are looking for ways to use an over abundant crop of zucchini. It is high and moist and the zucchini makes the use of shortening unnecessary. It's strongly flavored. If you love basil that will not be a problem, but I thought the basil overwhelmed the corn flavor of the bread. If I make this again, and I might, I would lose the basil and use red and green peppers to provide heat and color instead. Here's the recipe for inquiring minds to do with as they please.
Zucchini Cornbread
...from the kitchen of One Perfect Bite
Ingredients:
6 cups grated zucchini
2 cups
coarse
yellow cornmeal
1 cup all-purpose flour
3 large eggs, beaten
1-1/2 cups milk
2 teaspoons salt, divided use
3 tablespoons sugar
1 tablespoon baking powder
2 tablespoons minced fresh basil (or 2 teaspoons dried basil)

Directions:
1) Place zucchini in a a colander. Toss with 1 teaspoon salt. Place a plate and a heavy can on top of zucchini to weigh it down. Let it sit for 30 minutes. Rinse and squeeze dry. Set aside.
2) Preheat oven to 350 degrees F. Lightly grease an 8 x 8 x 2-inch pan. Line bottom with parchment or waxed paper; grease. Set aside.
3) In a large bowl, whisk or sift together cornmeal, flour, sugar, baking powder and reserved 1 teaspoon salt. In a small bowl, beat eggs, milk and basil together. Add to flour mixture and stir just until combined. Stir in drained zucchini. Spoon batter into prepared pan.
4) Bake on lower shelf of oven until golden brown, about 40 minutes. Cool for 10 minutes in pan. Invert onto a serving platter. Remove paper, slice and serve. This is best served warm. Yield: 16 servings.