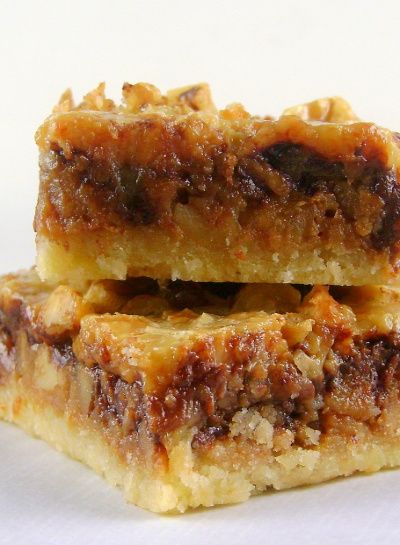 From the kitchen of One Perfect Bite...
We spent most of Sunday at a Mushroom Festival held at the arboretum in our area. This is a yearly event and I really look forward to it. Many of the Master Gardeners volunteer for the event. I'm not among them because I want the day to peruse and learn and touch base with folks I haven't seen since the last show. If you're into mushrooms there are some prestigious elbows to be rubbed here and that's hard to do when you are manning an exhibit. My guilty conscience is assuaged by donating baked goods for the cold wet volunteers who do what I should be doing. This Sunday I made several pans of these wonderful bar cookies. They are embarrassingly easy to make and I have yet to meet anyone who doesn't like them. I'd love to tell you it's a gourmet creation. It's not. The recipe comes the Eagle Brand test kitchen. I don't know if my experience is unique, but I have extremely good luck with recipes from these kitchens and I never hesitate to try the ones they feature. Today's recipe requires no special equipment and it's very easy to do. The bars are wonderfully flavorful and they are crowd pleasers. Nuff' said. Here's the recipe.

Maple Chocolate Walnut Bars
...from the kitchen of One Perfect Bite courtesy of Eagle Brand Test Kitchen
Ingredients:
1-1/2 cups Pillsbury BEST® All Purpose Flour
2/3 cup sugar
1/2 teaspoon salt
3/4 cup cold butter
2 large eggs
1 (14 oz.) can Eagle Brand® Sweetened Condensed Milk
1-1/2 teaspoons maple flavoring
2 cups chopped walnuts
1 cup (6 oz. pkg.) semi-sweet chocolate chips
Directions:
1) Heat oven to 350 F. Combine flour, sugar and salt in large bowl. Cut in butter with pastry blender or 2 knives until mixture resembles coarse crumbs. Stir in 1 egg. Press evenly into an ungreased 13 x 9-inch baking pan.
2) Bake 25 minutes. Beat sweetened condensed milk, remaining 1 egg and maple flavoring in medium bowl. Stir in walnuts. Sprinkle chocolate chips evenly over partially baked crust. Top with walnut mixture, spreading evenly to edges.
3) Bake an additional 20 to 25 minutes or until golden. Cool. Cut into bars. Yield: 36 bars.