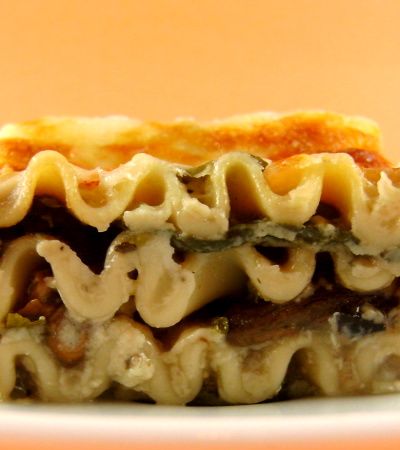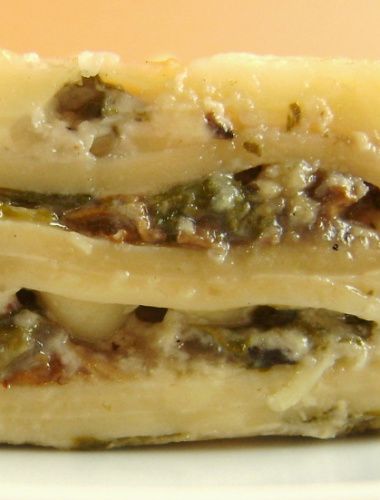 From the kitchen of One Perfect Bite...
Lasagna needs little introduction. Years ago the word referred to a cooking pot, but it's now generally accepted to be a form of pasta or a layered dish that is cooked "al forno" - in the oven. We're all familiar with the classic lasagna made with several cheeses and sauce Bolognese, but modern kitchens have introduced meatless versions as well a theme and variation that uses seafood. We were introduced to this lower calorie version of mushroom lasagna by the folks who operate the Rain Forest Mushroom Company. Before we get to the recipe, I want to remind you that mushrooms should be placed in a brown paper bag and kept in your vegetable crisper for no more than 3 to 5 days. They should not be eaten raw. I'm guilty of breaking this rule, but you should be warned that medical professionals advise that raw mushrooms should not be eaten by the very young, the very old or those who have compromised immune systems. Now to today's recipe. It's not bad. I'm tired of classic lasagna and find the seafood versions to be too expensive for standard family fare. This is a natural progression for us. Here is the lower calorie version of mushroom lasagna. If you can't purchase the more exotic mushrooms feel free to use button or crimini mushrooms in their place. Mangia!

Mushroom Lasagna Florentine
...from the kitchen of One Perfect Bite

Ingredients:
9 lasagna noodles (about 8-oz.)
3 cups 1% milk
1 cup low-fat cottage cheese
1/4 teaspoon pepper
1 (10-oz.) package frozen chopped spinach, thawed, squeezed dry
1-1/2 cups finely chopped leeks of white onions
1/3 pound each Shiitake, Maitake and Oyster mushrooms finely chopped
2 cloves garlic, finely minced
1/4 cup flour
1 cup grated Parmesan cheese, divided use
3/4 teaspoon salt
1/8 teaspoon ground nutmeg
2 tablespoons butter or oil
1/3 cup chopped parsley
1/2 teaspoon dried oregano
1/2 cup shredded Mozzarella cheese
Directions:
1) Cook pasta according to package directions. Preheat oven to 400 degrees F. Mist a 9 x 13-inch casserole dish with cooking spray. Set aside.
2) Place flour in a medium saucepan. Whisk in milk until blended. Bring to a boil over medium heat; cook, stirring constantly, until thick, about 5 minutes. Remove from heat: stir in cottage cheese, 1/2 cup Parmesan cheese, salt, pepper, nutmeg and spinach.
3) In a separate pan, melt butter over medium heat. Stir in leeks or onions and cook until soft and translucent, about 7 minutes. Add mushrooms and stir in parsley, oregano and garlic. Cook just until garlic is fragrant.
4) Spread 1 cup spinach mixture on bottom of baking dish. Top with 3 lasagna noodle. Spread with 1-1/2 cups of mushroom mixture. Repeat layers ending with noodles. Top with remaining 1/2 cup spinach mixture. Cover pan with foil and bake for 25 minutes. Uncover pan: sprinkle with reserved 1/2 cup Parmesan and shredded mozzarella. Bake, uncovered, for 15 minutes, or until golden brown. Let stand 10 minutes befor serving. Yield: 9 servings.