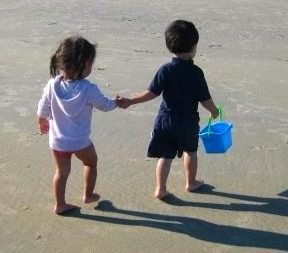 What lies ahead? Does it matter? Today, the world is young and it belongs to them.
"The world was all before them, where to choose
Their place of rest, and Providence their guide;
They, hand in hand, with wandering steps and slow,
Through Eden took their solitary way."
John Milton - Paradise Lost
The photo was taken by my youngest daughter. The children in the picture are my grandson, Joshua, and his friend Lily.
This post is being linked to: Finding Beauty at Dipity Road