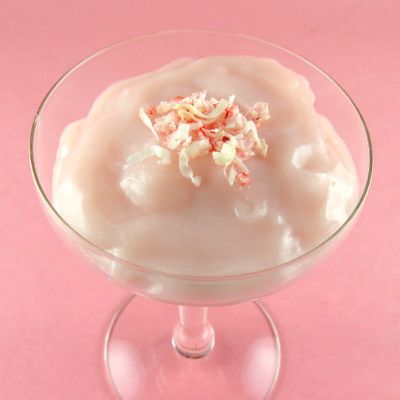 From the kitchen of One Perfect Bite...
There are folks who won't admit to birthdays, but like, nonetheless, to be remembered on their special day. I have such a friend. She has eclectic tastes and loves coconut, so I decided to make an uncommon and homely pudding to mark the importance of the day to those of us who love her. This is not the coconut pudding that is so popular across Asia. It's made from cornstarch rather than gelatin and beaten egg white. It does, however, use coconut milk for most of its flavor. I supplement that with a variable amount of coconut extract and use flaked coconut for garnish. This is really easy to do and the six ingredients required to make it can be found in any major grocery store. It can be assembled in about 15 minutes, though it requires 4 to 6 hours to set. Here's the recipe.
Coconut Cloud Pudding
...from the kitchen of One Perfect Bite
Ingredients:
6 tablespoons cornstarch
1/4 teaspoon salt
1-1/2 cups whole milk, divided use
1-1/2 cups coconut milk
1 cup granulated sugar
1/2 to 1 teaspoon coconut extract
Optional garnish: shredded coconut
Directions:
1) Whisk cornstarch and salt together in a medium bowl. Slowly add 1/2 cup milk and stir until smooth.
2) Add reserved 1 cup milk, coconut milk and sugar to a 2-quart saucepan. Bring to a simmer over medium heat, stirring until sugar is dissolved. Slowly stir in cornstarch mixture and stir constantly until mixture is very thick, about 5 to 6 minutes. Remove pan from heat. Add coconut extract to taste and stir for another minute. Let cool for 10 to 15 minutes longer.
3) Spoon custard into 6 3/4-cup containers. Refrigerate until chilled and set, about 4 to 6 hours. Garnish, if desired, with shredded coconut. Yield: 6 servings.
Cook's Note: If you enjoy a really light pudding, let the pudding cook to room temperature and fold in 2 cups of whipped cream or non-dairy topping. Then refrigerate to chill.
You might also enjoy these recipes:
Old-Fashioned Lemon Pudding
Double Chocolate Pudding
Pumpkin Panna Cotta
This post is being linked to:
Pink Saturday
, sponsored by Beverly at How Sweet the Sound