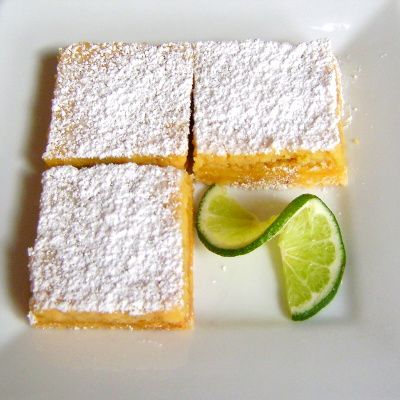 From the kitchen of One Perfect Bite...
My family loves citrus desserts. We don't always agree about which is our favorite and arbitration is sometimes required. Last night I lost the coin toss. The winner, who shall remain nameless, insisted on key lime bars. We have a Mexican grocer in town who will juice key limes if the request is made at a convenient time, he is in good humor and Mercury is in conjunction with Venus and Mars. It also helps if he likes you. I've learned it never hurts to flirt with or be especially solicitous of the butcher, fishmonger and sundry grocers. These days I probably remind them of their mothers, but it could be far worse and I do still get special attention. So, with a source for fresh lime juice at my disposal, I had no excuse not to make these. If you are not as fortunate as I am, key lime juice is now carried by most large supermarkets. These bars are really tart, so I wouldn't recommend trumpet practice following dessert. Recipes for them abound. I use a shortbread crust and a custard that uses sweetened condensed milk to lightly cover the cookie base. The bars also work well with a graham cracker crumb base. These are really easy to make and if you like your dessert really tart you are in for a treat. Here's the recipe.
Key West Lime Bars
...from the kitchen of One Perfect Bite
Ingredients:
Crust
1/2 pound unsalted butter, at room temperature
1/2 cup granulated sugar
2 cups all-purpose flour
1/8 teaspoon salt
Filling
4 large eggs
1/4 cup granulated sugar
1 (14-oz.) can sweetened condensed milk
1 to 2 tablespoons grated lime zest
2/3 cup freshly squeezed lime juice
2 tablespoons flour
Confectioners' sugar for dusting
Directions:
1) Preheat oven to 350 degrees F.
2) For crust, cream butter and sugar until light in bowl of an electric mixer fitted with a paddle attachment. Combine flour and salt and, with mixer on low, add to butter until just mixed. Dump dough onto a well-floured board and gather into a ball. Flatten dough with floured hands and press it into a 9 x 13 x 2-inch baking pan, building up a 1/2-inch ledge on all sides. Chill. Bake crust for 15 to 20 minutes, until very lightly browned. Let cool on a wire rack. Leave the oven on.
3) For the filling, whisk together the eggs, sugar, sweetened condensed milk, lime zest, lime juice, and flour. Pour over crust and bake for 20 to 25 minutes, until the filling is set. Let cool to room temperature. Chill for at least 2 hours. Dust with confectioners' sugar before serving. Yield: 20 squares.
You might also enjoy these recipes:
Cold Lime Souffle - One Perfect Bite
Key Lime Sherbet - One Perfect Bite
Key Lime and White Chocolate Cake Squares - One Perfect Bite