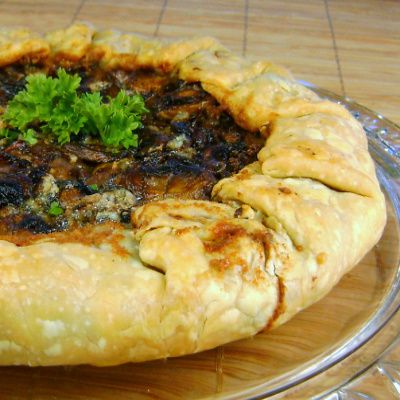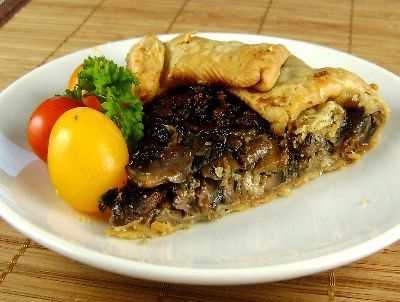 From the kitchen of One Perfect Bite...
It's been a busy day. I've started working on the dishes that I'll be featuring while we are traveling and the first day of cooking is always daunting. I managed to get a lot done, but as the sun set I had a "Eureka" moment. Surrounded by plates of food, I had forgotten about dinner and nothing on my counters was suitable for an evening meal. I grabbed a pie crust from the freezer and mushrooms and cheese from the refrigerator and threw together this homely galette. It normally is a much grander affair. On a good day, wild mushrooms, sauteed with fresh herbs and shallots, are tossed with a premium blue cheese and wrapped in a cloak of puff pastry that's baked until the color defines rich golden brown. That didn't happen tonight. I took every shortcut imaginable, but there is an upside to this sad tale. It worked. If I hadn't had the good stuff, I never would have known that this wasn't the real thing. The recipe I pillaged belongs

Joanne Weir

who is one of my favorite foodies. She stays under the radar but her recipes are spot on and I love her style. I'm going to share her recipe for Warm Stilton and Mushroom Galette with you and let you guess where I took my shortcuts. Here's her recipe.
Mushroom Galette
...from the kitchen of One Perfect Bite, courtesy of Joanne Weir
Ingredients:
Crust:
1-1/4 cups all-purpose flour, frozen in the freezer 1 hour
1/4 teaspoon salt
8 tablespoons ice cold butter, cut into 12 pieces
4 tablespoons sour cream
2 teaspoons lemon juice
1/2 cup ice water
Filling:
1/4 ounce dry porcini mushrooms
1 cup boiling water
2 tablespoons unsalted butter
6 green onions, white and green, thinly sliced
1/2 teaspoon freshly chopped rosemary
1/2 teaspoon freshly chopped thyme
1 pound cultivated or button mushrooms, thinly sliced
4 ounces Stilton or other blue-veined cheese
Directions:
1) To make crust: Place flour and salt in a food processor and pulse two times to combine. Add butter and pulse several times until most of the mixture is size of bread crumbs with a few pieces remaining pea sized. Dump mixture out onto a work surface in a pile. Spread it out a little. Make a well in center of mixture. Whisk together sour cream, lemon juice and water; add half of liquid to well. With your fingertips, mix liquid with dry mixture until large lumps hold together. Remove large lumps and repeat with remaining liquid, using as much liquid as needed to hold dough together. Refrigerate for 1 hour.
2) Preheat oven to 400 degrees F. Place dry porcini mushrooms in a small bowl, cover with boiling water and let sit 30 minutes. Drain mushrooms and reserve liquid for another use. Finely mince mushrooms and reserve.
3) In a large frying pan over medium heat, melt butter. Add green onions and cook, stirring occasionally, until soft, 5 minutes. Add rosemary and thyme and continue to cook 1 minute. Increase heat to high, add fresh and minced dried mushrooms and cook until mushrooms are soft and liquid from mushrooms has completely evaporated, 8 to 10 minutes. Remove from the pan and cool.
4) Roll dough on a floured surface to make a 12-inch circle. Place on a baking sheet. In a bowl, combine Stilton and mushrooms. Spread mixture over dough, leaving a 1-1/2-inch border around edges. Fold uncovered edge of pastry over mushrooms and cheese, pleating it to make it fit. There will be an opening in center of tart. Bake until golden brown, 30 to 40 minutes. Cool for 5 minutes. Slide galette onto a serving plate. Serve hot, warm or room temperature.
Yield: 6 first course servings.
You might also enjoy these recipes:
Roasted Vegetable Galettes - The Baking Barrister
Ham and Cheese Galettes - Chow and Chatter
Savory Galettes - A Yankee in a Southern Kitchen
Savory Goat Cheese Parmesan Galette - Use Real Butter
Cabbage and Mushroom Galette - Lisa is Cooking
Zucchini Galette - A Good Appetite