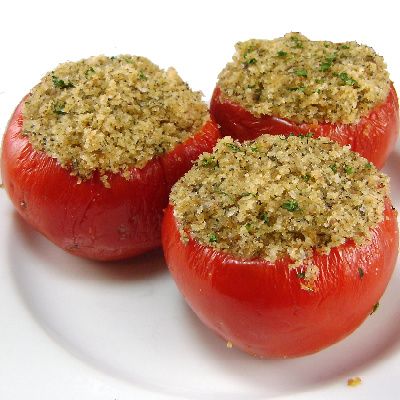 From the kitchen of One Perfect Bite...
This is a side dish that I occasionally make when tomatoes are plentiful and inexpensive. Years ago, baked tomatoes were commonly served in the Southern United States and could be found in restaurants across the country where they were used as a garnish for steaks and chops. The dish is actually French in origin and anyone who has traveled through France in the late summer has probably been served Tomates a la Provencale - whether they wanted them or not. This is a very simple dish. It consists of tomatoes that are topped with seasoned bread crumbs and then baked until the crumbs are crisp and brown while the interior of the tomatoes remain soft and creamy. The dish is not to everyone's liking, but it is remarkably versatile and can be altered to please your family's taste. Here's the recipe I use.
Baked Tomatoes
...from the kitchen of One Perfect Bite

Ingredients:
6 medium tomatoes, about 2 pounds
1/2 cup fine dry bread crumbs
3 tablespoons extra-virgin olive oil, divided use
1 teaspoon minced garlic
1 tablespoon Italian seasoning
1/4 teaspoon garlic powder
1/4 teaspoon onion powder
1/4 teaspoon fresh ground pepper
1 teaspoon kosher salt
2 tablespoons finely grated Parmesan cheese
2 tablespoons finely chopped parsley
1 teaspoon vegetable oil
Directions:
1) Preheat oven to 375 degrees F. Lightly grease a 9-inch round baking dish with 1 teaspoon vegetable oil. Set aside.
2) Cut top third from each tomato. Discard top. Gently squeeze each tomato to extract juice and seeds. Place tomatoes in prepared baking dish, cut side up.
3) Combine bread crumbs, 2 tablespoons olive oil, garlic, Italian seasoning, garlic powder, onion powder, pepper, salt, Parmesan cheese and parsley in a small bowl.
4) Top each tomato with two tablespoons of crumb mixture, gently packing them down with back of a spoon. Drizzle remaining 1 tablespoon olive oil evenly over tomatoes.
5) Bake, uncovered, until topping mixture is golden brown and the tomatoes are tender, about 30 minutes. Remove from oven and let sit for 10 minutes before serving. Yield: 6 servings.
You might also enjoy these recipes:
Pickled Green Tomatoes - Homesick Texan
Tomato Leek Soup - Living the Gourmet
Cherry Tomato Crisp - Let's Dish
Slow Roasted Tomatoes - Passionate About Baking
Stuffed Tomatoes with Bleu Cheese - Karen Cooks
Homemade Tomato Paste - My Man's Belly