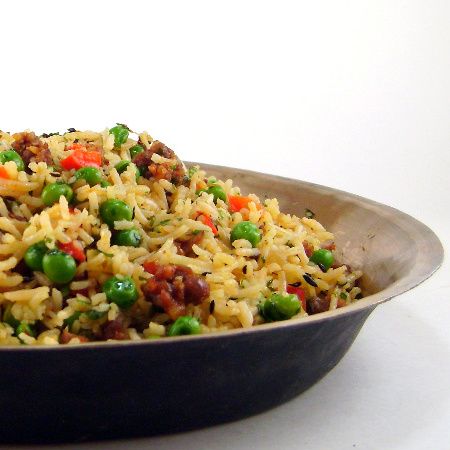 From the kitchen of One Perfect Bite...
Long before the Reformation split Christian Europe into opposing camps, the Lenten season was marked by a ritual called the

Black Fast

. The 40 day fast was a diet that restricted believers to one small meal a day. That meal could contain no meat, fats or dairy products and during Holy Week, the week before Easter Sunday, the meal was simply bread and water that was seasoned with salt and herbs. Believers rarely strayed from the plan. I suspect shortages contributed to their compliance, and that the fast helped ration a limited food supply during the lean months prior to harvest. The rules of the fast softened over time, and a provision was made to add breakfast and lunch to the diet, as long as their combined size was smaller than the evening meal. Since the Second Vatican Council, rules have eased further still and fasting is now required only on Ash Wednesday and Good Friday, and abstinence from meat is required only on Fridays during Lent. While looking for new Lenten recipes, I found a recipe for soup that purportedly was served to fasting monks in pre-Reformation Europe. I thought you might find it interesting. The recipe appears at the end of this post.
One of the recipes I found last night is this Paella-style fried rice. It has a split personality. The dish has the flavors of a Spanish paella, but it is made like an Asian fried rice. The recipe comes from an old issue of Gourmet magazine, and I was able to test it for our own dinner. I used sausage in the dish, but I can assure you the recipe will work as well, or better, with shrimp. This is a lovely, peasant-style meal. It uses copious quantities of cumin seed and red pepper flakes, but they are well balanced and do not overpower the dish. While this is probably not a good choice for young children, older children and adults will love this Spanish-style supper. It is stir-fried in an Asian manner, so to prevent clumping you want to make sure that your cooked rice is well-chilled and that any clumps are broken into individual grains. Globs are not good. This is really easy to do, and I think those of you who try it will enjoy it. I will certainly make it again. It is a nice family meal that works well on its own or as an accompaniment to grilled meat or chicken. Here's the recipe.
"Paella" Fried Rice
...from the kitchen of One Perfect Bite adapted from Gourmet Magazine
Ingredients:
1/4 cup extra-virgin olive oil
1 tablespoon cumin seeds
1/2 teaspoon dried hot red pepper flakes
1 large onion, chopped
1 large red bell pepper, chopped
2 (3 to 4-ounce) Spanish chorizo (spicy dried pork sausage) links, quartered lengthwise and cut into 1/4-inch-thick pieces, or 8-ounces small shrimp, peeled and deveined
4 cups cold cooked rice
1-1/2 teaspoons salt
1 (10-ounces) package frozen peas, thawed
1/3 cup hulled (green) pumpkin seeds, toasted
1 cup finely chopped fresh cilantro
Directions:
1) Heat oil in a 12-inch nonstick skillet over moderate heat until hot but not smoking. Add cumin and red pepper flakes and cook, stirring, for about 1 minute. Add onion and bell pepper and cook, stirring, until softened.
2) If using chorizo add to pan and sauté over moderately high heat, stirring, until sausage begins to brown, about 3 minutes. If using shrimp, add to pan and and sauté over moderately high heat, stirring, until shrimp turn pink, about 3 minutes.
3) Add rice, crumbling it, and salt. Sauté, stirring, until some grains begin to turn golden, about 3 minutes. Add peas and sauté, stirring, just until peas are heated through. Remove from heat and stir in pumpkin seeds and cilantro. Serve hot. Yield: 4 to 6 servings.
Bread Soup For Fast Days
...from La Cuisine des Monastères courtesy of Marc Meneau
Ingredients:
3 quarts vegetable stock
1/3 cup pearl barley boiled for 25 minutes in 1 quart of stock
4 slices of raisin bread about an inch thick
1 cup of white wine
2 cloves garlic, cut into halves
2 shallots, chopped
2 tablespoons fresh chopped parsley leaves
1 tablespoon fresh tarragon
1 tablespoon fresh chervil
2 cups watercress
3 juniper berries, crushed
Salt and pepper to taste
Directions:
1) Simmer chopped shallots in 3-1/2 tablespoons of white wine, without browning. Set aside and let cool.
2) Mix cooked shallots with the washed, dried, and chopped herbs. Set aside.
3) In a heavy pot, bring remainder white wine to a boil, add 1/3 of stock to pot and reduce volume of liquid by 1/4th. Repeat this process twice with the remaining stock. You should have about 1 quart of liquid by the time you are finished.
4) Season broth with juniper berries, salt, pepper; add the barley. Set aside.
5) Toast bread slices, rubbed heavily with cut garlic, and cover each of four slices of bread with 1/4 of prepared herbs.
6) Place one bread slice inside each of four deep bowls, and pour hot broth around bread. Serve immediately. Yield: 4 servings.
You might enjoy these recipes:
Orange Rosemary Broiled Salmon - Fresh4Five
Sesame Soba Noodles - Annie's Eats
Stuffed Portabella Mushrooms - Sweet Basil Kitchen
Some Mighty Lovely Lentil Burgers - The Ungourmet
Vegetable and Barley Stuffed Peppers - Proud Italian Cook
Cheddar

Cheese Souffle - Wives with Knives
Shrimp Cakes with Sweet and Sour Tomato Sauce - One Perfect Bite
Shrimp Enchiladas Verde - One Perfect Bite