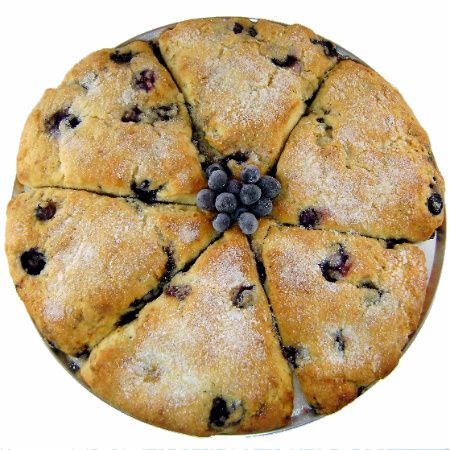 From the kitchen of One Perfect Bite...
I don't find coffee cake to be much of a temptation, but I get all weak-kneed if there are scones in the house. I simply can't resist them, particularly if they are made with sweet cream. Scones are not an everyday affair in my kitchen. I make them only for the holidays, because, truth be told, I could eat the entire batch if left to my own devices. I first sampled these scones at Central Market in Austin, Texas. It was love at first bite. I was able to get a copy of the recipe and was delighted to find that the scones are as easy to make as they are delicious to taste. While there is a bit of wait time involved, they can be made without special equipment and can be table ready in about 2-1/2 hours. The scones take 10 minutes to mix, 2 hours to chill and about 20 minutes to bake. To simplify breakfast, I usually chill them overnight and bake them just before serving. Austin's Central Market holds a special place in my heart. I love the community in which I live, but no one would ever dub its stores a food lover's paradise. Were it not for small ethnic markets and local farms, shopping in the diaspora would be a ho-hum affair at best. Not so Central Market, and I'm like a kid in a candy store on those occasions when I can shop there. It also holds a bit of my family history. My daughter and I learned to make tamales in a class they taught when she first moved to Austin. I'm still trying to figure out how she became more proficient at their assembly than me. I suspect it's another case of "the queen is dead, long live the queen". For the time being anyway, I still make better scones than she can. Here's my secret recipe. Be forewarned, if you share it with my firstborn I'll have to hurt you.
Blueberry Cream Scones
...from the kitchen of One Perfect Bite courtesy of Central Market
Ingredients:
2 cups all-purpose flour
1/4 cup + 2 tablespoons sugar, divided use
1 tablespoon baking powder
1/2 teaspoon salt
3 tablespoons butter
3/4 cup blueberries
1-1/4 cups heavy cream
Directions:
1) In a large mixing bowl, combine flour, 1/4 cup sugar, baking power, and salt. Cut butter into dry ingredients. Stir in blueberries.
2) Add heavy cream and stir by hand just until dough forms. Dough will be soft and sticky. Cover and refrigerate 2 hours.
3) Preheat oven to 400 degrees F.
4) Turn dough out onto a lightly floured surface and knead gently until dough just holds together. Press dough into a 8 to 9-inch circle,
1-inch thick
. Cut into wedges. Place scones on baking sheet and sprinkle scones with reserved sugar.
5) Bake 15-20 minutes at 400 degrees or until scones are a light golden brown on top. Yield: 6 servings.
One Year Ago Today:
Spring Salmon and Leek Soup
Two Years Ago Today:
"Real" Coffee Cake
You might also enjoy these recipes:
Whole Wheat Orange Scones - For the Love of Food
Delicious Strawberry Scones with Orange Glaze - The Cafe Sucre Farine
Cranberry Orange Scones - Toffee Bits and Chocolate Chips
Lemon Blueberry Scones - Laura's Recipe Collection
Strawberry Jam Scones - Confections of a Foodie Bride
Bacon Cheddar Scones with Maple Syrup - Sass and Veracity
Lemon Ginger Scones - The Sweet's Life
Honey and Lemon Scones - Eat Good 4 Life
Cinnamon Chip Scones - Cookie Madness
Cheddar and Fennel Scones - Lawyer Loves Lunch