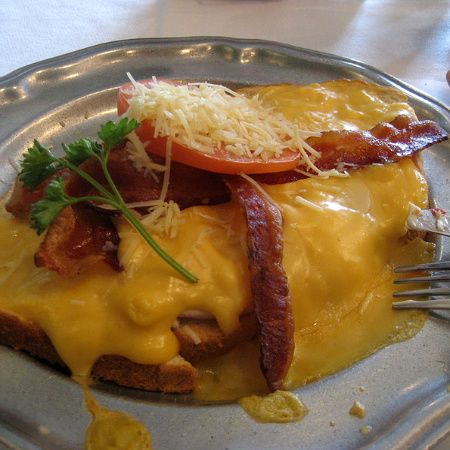 Photo Courtesy of Wikimedia Commons

The Legendary Hot Brown Sandwich
Pittsburgh's Famous Devonshire Sandwich
From the kitchen of One Perfect Bite...
Derby day is usually one of wretched excess for celebrants. The race is run on a track 1-1/4 miles long and it's generally over in a little more than two minutes. Women attending the fete spend hours more than that shopping for their hats, which can be as outrageous as the British fascinators we saw at the royal wedding. Preparations for parties that follow the race require weeks of planning and while menus may vary from place to place, there are certain items that appear on almost all of them. Mint juleps, Derby pie and Hot Brown sandwiches are generally among them. The Hot Brown was originally created by Fred Schmidt, chef at the Brown Hotel in Louisville, Kentucky. It's a variation of Welsh rarebit and it was developed to serve as a breakfast for late night revellers who were tired of ham and eggs. I wanted to share the original recipe with you. Mind you, I'm not suggesting you make the authentic recipe for your family. While it might line the stomach, it will also clog the arteries. Fortunately, the sandwich is easy to lighten. I've never made these sandwiches with heavy cream and I use far less turkey than is called for in the base recipe. I'm sure you'll find additional ways to lighten them should you decide to make them. The Devonshire sandwich was initially unique to Pittsburgh, Pennsylvania. Many consider it to be the Hot Brown of Pittsburgh. It was developed by Frank Blandi for his restaurant in the Shadyside neighborhood of the city. Though I'm sure there would be cries of protestation, his sandwich is awfully similar to the Hot Brown and some might consider it one of the first knock off or copycat recipes. It, alas, is no better for you, though you can substitute crab or asparagus for the turkey. The original recipes for the two sandwiches follow.
Hot Brown Sandwich

Ingredients:
Sauce
2 oz. unsalted butter
2 oz. all-purpose flour
1 quart heavy cream
1/2 cup Pecorino Romano cheese, + 1 tablespoon for garnish
Salt and pepper to taste
Sandwich
14 oz. sliced roasted turkey breast
2 slices Texas Toast (crust trimmed)
4 slices of crispy bacon
2 Roma Tomatoes, sliced in half
Paprika, Parsley
Directions:
1) To make sauce: In a two-quart saucepan, melt butter and slowly whisk in flour until combined and forms a thick paste (roux). Continue to cook roux for two minutes over medium-low heat, stirring frequently. Whisk heavy cream into roux and cook over medium heat until cream begins to simmer, about 2-3 minutes. Remove sauce from heat and slowly whisk in Pecorino Romano cheese until Mornay sauce is smooth. Add salt and pepper to taste.
2) To make sandwiches: For each Hot Brown, place one slice of toast in an oven safe dish and cover with 7 ounces of turkey. Take two halves of Roma tomato and set them alongside base of turkey and toast. Next, pour one half of Mornay sauce over all to completely cover the dish. Sprinkle with additional Pecorino Romano cheese. Place entire dish under a broiler until cheese begins to brown and bubble. Remove from broiler, cross two pieces of crispy bacon on top, sprinkle with paprika and parsley, and serve immediately. Yield: 2 servings.
Devonshire Sandwich
Cream Sauce:
3/4 stick butter, melted
1 cup flour
1/4 pound Cheddar cheese, grated
1 pint chicken broth
1 pint hot milk
1 teaspoon salt
For each sandwich:
1 slice toast, crusts trimmed off
3 slices crisp bacon
5 thin slices cooked turkey breast
Cream Sauce, recipe above
Melted butter
Parmesan cheese and paprika
Directions:
1) To make sauce: Melt butter in deep pan and add flour, stirring constantly. Add chicken broth and then hot milk, stirring constantly. Add cheese and salt. Bring to boil, then cook slowly for 20 minutes, still stirring. Cool to lukewarm. Beat with wire whip until smooth before using. This makes enough sauce for 6 Devonshire sandwiches.
2) Preheat oven to 450 degrees. In each flat, individual oven-proof casserole dish, place 1 slice of toast and top with 3 slices bacon. Add 5 thin slices of cooked turkey breast. Cover completely with cream sauce. Sprinkle with a little melted butter, then with the combined Parmesan cheese and paprika. Bake 10 to 15 minutes or until golden brown.
One Year Ago Today:
Grilled Asian Eggplant with Soy-Ginger Glaze
Two Years Ago Today:
Yogurt Cheese Cake
You might also enjoy these recipes:
Hot Chicken Sandwiches - The Royal Cook
Hot Ham and Cheese Sliders - Bless Us O Lord
Toasted Reuben Sliders - Ordinary Recipes Made Gourmet
Reuben Panini with Homemade Bread - Sugar Crafters
Tomato Brunch Sandwiches - One Perfect Bite
French Dip Sandwich - One Perfect Bite
Blue Cheese Steak Sandwich - One Perfect Bite
Gorgonzola Flank Steak Sammies - Smith Bites
Welsh Rarebit - My Year on the Grill
Croque Monsieur Ham and Cheese Sandwich - Simply Recipes
This post is being linked to:
Pink Saturday

, sponsored by Beverly at How Sweet the Sound.