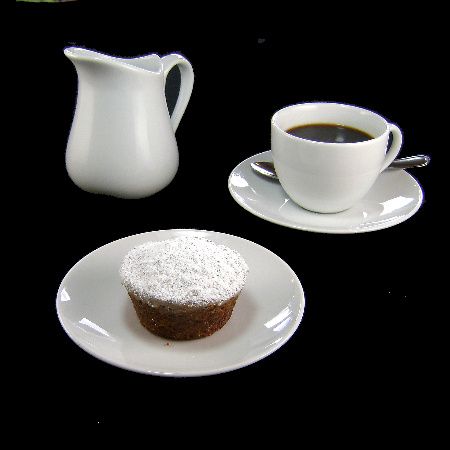 From the kitchen of One Perfect Bite...
Some of them exercise, some of them count calories and some, having developed what I call the "What the Hell" syndrome, just smile beatifically and grab another cookie. I speak now, with great affection, of course, of my homeys who have never met a snack or dessert they didn't like . While the stated purpose of our meetings is planning and scheduling events for a group that does not wish to be named here, we really meet to dish, divine and dine. That's dine, as in snack on things that aren't really good for us. I was refreshment lady this month and used the opportunity to test some muffin recipes I'd been wanting to try. The muffins I'm featuring today, are a bit unique in that they have a drizzled caramel glaze that goes well with the intense banana flavor of the cakes. I made two batches this morning and used the glaze on one of them. The glaze did not photograph well, so I used confectioners' sugar to top the other. These muffins are like a banana bread in cupcake form and they really are delicious, with or without the glaze. I'll be making them again. Here's the recipe.
Banana Muffins
...from the kitchen of One Perfect Bite courtesy of Katherine McClelland
Ingredients:
1/4 cup shortening
1 cup sugar
1 egg
1-1/2 cups mashed ripe bananas (about 3 large)
1 teaspoon vanilla extract
1-1/2 cups all-purpose flour
1 teaspoon baking soda
1/4 teaspoon
Caramel Icing
2 tablespoons butter
1/4 cup packed brown sugar
1 tablespoon 2% milk
1/2 cup confectioners' sugar
in 6 jumbo muffin cups.
Directions:
1) Preheat oven to 350 degrees F. Place cupcake liners in six jumbo muffin cups. Cream shortening and sugar in a large bowl until light and fluffy. Beat in egg. Beat in bananas and vanilla. Combine flour, baking soda and salt. Add to creamed mixture just until moistened. Fill muffin cups three-fourths full. Bake for 23-28 minutes or until a toothpick inserted near the center comes out clean. Cool for 5 minutes before removing from pan to a wire rack to cool completely.
2) For icing, melt butter in a small saucepan over medium heat. Stir in brown sugar and milk; bring to a boil. Cool slightly. Beat in confectioners' sugar until smooth. Transfer to a small resealable plastic bag; cut a small hole in a corner of bag and drizzle over muffins. Yield: 6 muffins.
One Year Ago Today:
Sweet Pickles
Two Years Ago Today:
Salmon Chowder
You might also enjoy these recipes:
Peach and Oat Muffins - Sweetly Serendipity
Gluten-Free Banana Breakfast Muffins - Retired Without Regrets
Raspberry Lemon Breakfast Muffins - Fresh4Five
Spiced Banana Chocolate Chip Muffins - Amanda's Cookin'
Carrot Spice Muffins - My Baking Heart