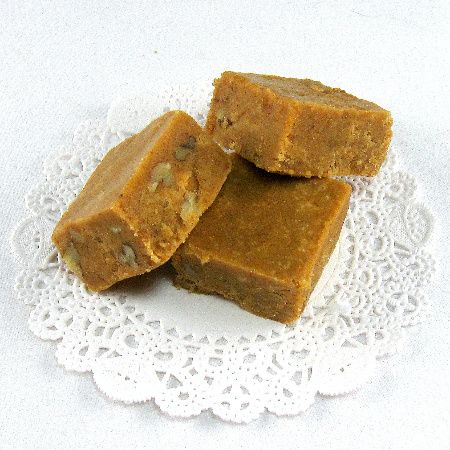 From the kitchen of One Perfect Bite
...

I guess this fudge could be thought of as green candy. After I had mixed the last batch of holiday cookies, I still had some pumpkin left in the can. Rather than toss it, I went looking for recipes that used only 1/2 cup of pumpkin. I found what I was looking for on the Libby's Pumpkin website and decided to try their recipe for pumpkin fudge. It sounded interesting and the recipe was straight forward, so, withing 3 hours I had fudge to add to the special treat bags I put together for the neighborhood children. Our home is perched on a hillside and the driveway that leads to it is steep in the extreme. Not many are willing to brave it, so we drop off treats for the children rather than have them come to us. The fudge was meant as an adult treat for their parents. The recipe can be made with white chocolate or butterscotch chips. I decided to go with the butterscotch version because that was what I had in my pantry. I also used my homemade pie spice (see Cook's Note below) rather than a commercial brand, but other than that I followed the recipe to a tee. It makes a very sweet fudge that will satisfy the most insistent sugar urge. While it may put the rest of us into sugar shock, it is nicely flavored and I can recommend it to those of you who really enjoy sweet things. The spicing makes the fudge a bit unusual and it certainly is seasonal. Here's the recipe for those of you who would like to give it a try.
Spiced Pumpkin Fudge
...from the kitchen of One Perfect Bite courtesy Libby's Pumpkin

Ingredients:
2 cups granulated sugar
1 cup light brown sugar
3/4 cup unsalted butter
2/3 cup or 5-ounce can evaporated milk
1/2 cup canned pumpkin
2 teaspoons pumpkin pie spice
2 cups butterscotch baking chips
1 (7 oz.) jar marshmallow creme
1 cup chopped pecans
1-1/2 teaspoons vanilla extract

Directions:
1) Line a 9 × 13-inch baking pan with foil or parchment paper, leaving some hanging over the sides for easy removal.
2) Combine granulated sugar, brown sugar, evaporated milk, pumpkin, butter and spice in a medium saucepan. Bring to a full rolling boil over medium heat, stirring constantly. Boil, stirring constantly, for 10 to 12 minutes or until candy thermometer reaches 234 to 240 degrees F.
3) Quickly stir in butterscotch chips, marshmallow creme, pecans and vanilla extract. Stir vigorously for 1 minute or until butterscotch chips are melted. Immediately pour into prepared pan. Let stand on wire rack for 2 hours, or until completely cooled. Refrigerate tightly covered. Cut into 1-inch pieces. Yield: 64 pieces (3 pounds).
Cook's Note: Homemade Pumpkin Pie Spice: Combine 1 teaspoon cinnamon, 1 teaspoon ginger, 1/4 teaspoon mace, 1/4 teaspoon nutmeg, 1/8 teaspoon ground cloves.

One Year Ago Today:
Clam Fritters
Two Years Ago Today:
Cranberry Souffle