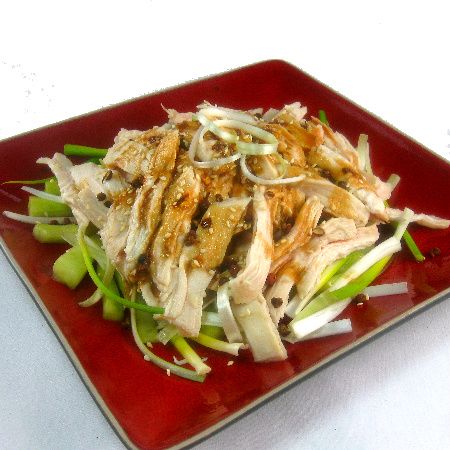 From the kitchen of One Perfect Bite...
Summer or winter, this lovely Chinese salad makes for a wonderful meal. This Sichuan dish has become popular around the world and has managed to stay true to its roots. The origins of the dish can be found in Hanyang Ba, a town in Sichuan province that was famous for the quality and flavor of its chickens. Street vendors sold hunks of sauced chicken meat as a snack for villagers and townfolk . They called it "bang bang chicken" because of the noise made by wooden cudgels that were used for pounding cleavers blades through the meat. The cudgels were also used to loosen the fibers of the chicken so it could be torn into shreds by hand. This dish is also known as "stranger-flavor chicken" because of its unique combination of salty, sweet, sour, nutty, hot and numbing flavors. The heat comes from a fiery chili oil and the numbing flavor comes from the use of Sichuan peppercorns. I talked about Sichuan peppercorns several years ago and if you'd like a quick refresher course you can find it
here
. Make no doubt about it, when made as intended, this is a spicy and fiery hot dish. It is definitely not for sissies and it has the potential to set you on your (r)ear. The Silver Fox and I had our first taste of "bang bang chicken" and a true hot-pot while in Chengdu several years ago, so, we learned from masters how to make and eat and this Sichuan specialty. It is fondly recalled as a baptism by fire. If you decide to make this salad and are new to heat at these levels, I suggest you use red pepper flakes instead of red chili oil. Start with 1/2 teaspoon of flakes and if you like the dish and work your way up to a full measure of oil. There really is no substitute for the peppercorns, so if you can't find them, proceed without them. This is a lovely bold salad and I do hope you'll try it. Here's the recipe.
Bang Bang Chicken
...from the kitchen of One Perfect Bite inspired in equal measure by Fushia Dunlop and Rhonda Parkinson
Ingredients:
Salad
1 pound boneless skinless chicken breasts
1 English cucumber, cut into matchstick-size strips
6 shredded scallions + 1 tablespoon shredded scallion, white part only, divided use
1/2 - 1 teaspoon roasted Sichuan peppercorn
Dressing
2 tablespoons sesame seed paste or chunky peanut butter
3 tablespoons soy sauce
1 tablespoon black rice wine vinegar
1 tablespoon Asian (dark) sesame oil
1 tablespoon granulated sugar
1 - 2 tablespoons hot chili oil, or 1 - 2 teaspoons chili flakes
Optional garnish: toasted sesame seeds
Directions:
1) Bring a pot of water to a boil. Cook chicken in water for 10 minutes, or until cooked through. Drain. When cool enough to handle, whack chicken with a rolling pin until it can easily be pulled apart with your fingers.
2) Peel cucumber, and cut into matchstick-size strips. Shred scallions lengthwise. Set both aside.
3) Whisk sesame seed paste or peanut butter, soy sauce, black vinegar, sesame oil, sugar and hot chili oil or chili flakes together in a small bowl.
4) Arrange cucumber matchsticks and six shredded scallions on a serving plate. Place chicken on top. Sprinkle with Sichuan peppercorns and pour sauce over salad. Garnish with reserved scallion shreds. Yield: 4 servings.
One Year Ago Today:
Soft Whole Wheat Dinner Rolls
Two Years Ago Today:
Chocolate Peppermint Pie