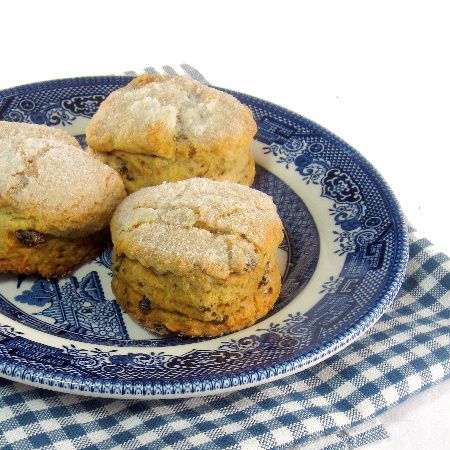 From the kitchen of One Perfect Bite...
I can't quite see myself serving these for breakfast, but I have no aversion to putting them on a brunch or tea table. They are delicious and a perfect example of Nancy Silverton's ability to make ordinary food extraordinary. These biscuits contain orange and rum soaked raisins that make others pale in comparison. Save for the drunken raisins, the recipe is like most others for scones or tea biscuits. It is straight forward and if you follow the recipe you are guaranteed success. You can, of course, swap cranberries for raisins and experiment with orange liqueur. I make these often, and, while I do experiment, I always go back to the original ingredients. If you use a 2-1/4 inch biscuit cutter you will be able to get a dozen biscuits from the recipe. I do hope you will try these. They are wonderful to serve with afternoon tea and distinctive enough to be memorable. Here's the recipe.


Rum Raisin Tea Biscuits
...from the kitchen of One Perfect Bite courtesy of Nancy Silverton
Ingredients:
1/3 cup orange juice
1/3 cup rum
1 teaspoon pure vanilla extract
1/2 cup raisins
2 cups all-purpose flour
1 tablespoon sugar
2 teaspoons baking powder
1 teaspoon baking soda
1 teaspoon coarse salt
8 tablespoons (1 stick) cold unsalted butter,
cut into 8 pieces
1/3 cup buttermilk
1 teaspoon grated orange zest
Milk
5 teaspoons sugar

Directions:
1) Combine orange juice, rum, vanilla and raisins in a small bowl. Set aside for 10 minutes while preparing biscuits.
2) Preheat the oven to 375 degrees F.
3) Combine flour, sugar, baking powder, baking soda, and salt in bowl of a food processor fitted with a metal blade. Pulse to combine. Add butter and process until mixture looks like coarse meal.
4) Drain liquid from raisins reserving 1/3 cup. Combine reserved liquid with buttermilk and add to flour mixture in food processor, then add raisins and orange zest. Pulse just to dampen dry ingredients. Dough will be sticky.
5) Remove dough from bowl and knead 10 times on a well-floured surface. Pat into an 8-inch round, 1/2 inch thick. Cut 8 biscuits with a floured 2 1/2-inch cutter. Fold scraps together and cut 2 more biscuits. Place on a lightly greased baking sheet, 1 inch apart. Brush tops with milk and sprinkle each with 1/2 teaspoon sugar.
6) Bake for 15 to 18 minutes, until tops are lightly browned. Yield: 10 biscuits.
One Year Ago Today:
Minced Chicken with Oyster Sauce
Two Years Ago Today:
Roasted Garbanzo Beans with Cajun Spice