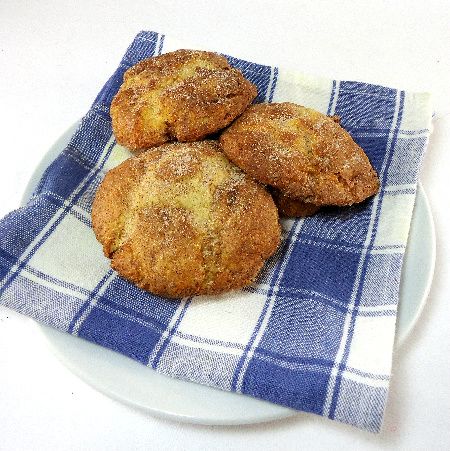 From the kitchen of One Perfect Bite...
These tangy and sweetly spiced muffins are the result of several staged experiments gone bad. I was trying to create a muffin that had a crackly, sugar crusted top, much like that of a snickerdoodle. My quest began with cookies. Now, part of the problem was I'm not expert with this type of cookie. As a matter of fact, I had my first snickerdoodle just last week and I must admit I was underwhelmed. At the suggestion of the Silver Fox I grabbed a recipe from a source I trusted and made a batch for us to sample. They were fine but neither of us thought the cookies fell into the Remembrance of Things Past category. Not easily discouraged, but for reasons that are still unclear to me, I decided the topping, especially if it could be given some crunch, would be perfect for muffins. Out came the pots and pans and I began my search for what I hoped would be the ultimate muffin. My first attempt was a standard bread-type muffin that I thought was too dry. I moved on and tried a cake-style muffin that had better texture but surprising little flavor. I tried yet again and ended up recreating large French Breakfast Puffs. Still undeterred, I pulled out my go-to muffin recipe, which by the way comes from Cook's Illustrated, swapped out the sugar and added some nuts and spices for additional flavor and had another go at it. I must say the muffins were quite nice, but I was never able to achieve the crunchy top that started the whole experiment. If you are looking for a nicely spiced cake-type muffin, you might want to give these a try. They may not rival Madeleine's in the realm of memory, but they are great with tea. Here's the recipe.
Cinnamon Nut Muffins
...from the kitchen of One Perfect Bite adapted from Cook's Illustrated


Ingredients:
Topping:
1/2 cup granulated sugar
1 tablespoon cinnamon
Muffins:
3 cups all-purpose flour
1 tablespoon baking powder
1/2 teaspoon baking soda
1/2 teaspoon salt
1/4 teaspoon mace
1/4 teaspoon nutmeg
10 tablespoons unsalted butter, softened
1 cup golden brown sugar, packed
2 large eggs
1-1/2 cups plain low-fat yogurt
1-1/2 cups toasted chopped walnuts
Vegetable oil, cooking spray or additional butter for muffin tins
Directions:
1) Adjust oven rack to lower middle position and heat oven to 375 F. Mix topping cinnamon and sugar in a small bowl.
2) Mix flour, baking powder, baking soda, salt, mace and nutmeg in medium bowl; set aside.
3) Beat butter and sugar with electric mixer on medium-high speed until light and fluffy, about 2 minutes. Add eggs, one at a time, beating well after each addition. Alternating 1/3 at a time, beat in the dry ingredients and yogurt until a smooth, thick batter just forms. Fold in walnuts.
4) Spray 1 or 2 12-cup muffin tins with cooking spray or coat lightly with butter. Use large ice cream scoop to divide batter evenly among cups. Generously sprinkle tops with cinnamon sugar mixture. Bake until muffins are golden brown, about 25 minutes for the large muffins. Set on wire rack to cool slightly, about 5 minutes. Sprinkle again with cinnamon sugar. Remove muffins from tin and serve warm. Yield: 12 large or 18 medium muffins.
One Year Ago Today:
German Chocolate and Almond Cocoa Cream Cake
Two Years Ago Today:
Chicken Mole Poblano