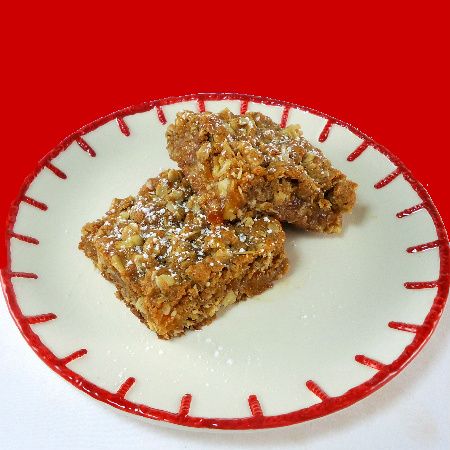 From the kitchen of One Perfect Bite...
These cookies have much to recommend them. The recipe for them was developed by Giada DeLaurentis and it has received rave reviews on the Food Network Site. I especially like these fruit bars because they transport well, and while I think they're delicious, I take certain precautions to assure great results that everyone will enjoy. I only make these cookies when I have really good apricot jam or preserves in my pantry. Fortunately, I have a friend who sends me several jars of my favorite preserves at Christmas time. They are made by Harvest Song and they have the ability to make an ordinary fruit bar truly outstanding. This recipe also works well with dried cherries and cherry preserves. These bars are completely dependent on the quality of the ingredients used to make them and I urge you to not to stint if you decide to give them a try. Make sure your jam tastes more of fruit than sugar and that you use a good butter with a low moisture content. The cookies come together quickly and they will keep for several days if they are properly stored. I think you will like these and I hope you will give them a try. Here's the recipe.
Apricot Oatmeal Bars
...from the kitchen of One Perfect Bite courtesy of Giada DeLaurentis

Ingredients:
Filling
1 (13-ounce) jar apricot jam or preserves (about 1-1/4 cups)
8 dried apricots, chopped into 1/4-inch pieces (about 1/3 cup)
Crust
1-3/4 cups all-purpose flour
1 packed cup light brown sugar
1 teaspoon ground cinnamon
3/4 teaspoon fine sea salt
3/4 teaspoon baking soda
1-3/4 cups old-fashioned oats
1 cup (4 ounces) coarsely chopped walnuts
1 cup (2 sticks) unsalted butter, melted
1 egg, at room temperature, beaten
1 teaspoon pure vanilla extract
Directions:
1) Move an oven rack to center of oven. Preheat oven to 350 degrees F. Spray a 9 x 13 x 2-inch metal baking dish with vegetable oil cooking spray. Line bottom and sides of pan with parchment paper. Spray parchment paper with vegetable oil cooking spray and set aside.
2) To make filling: Mix jam and snipped apricots together in a small bowl. Set aside.
3) To make crust: Whisk flour, sugar, cinnamon, salt and baking soda together in a large bowl. Stir in oats and walnuts. Add butter, egg and vanilla and stir until incorporated.
4) Using a fork or clean damp fingers, lightly press half of crust mixture onto bottom of prepared pan. Using a spatula, spread filling over crust leaving a 1/2-inch border around edge of pan. Cover filling with remaining crust mixture and gently press to flatten. Bake until light golden, about 30 to 35 minutes. Cool for 1 hour. Cut into bars and store in an airtight container for up to 3 days.
One Year Ago Today: The Good Woman's Cod Fish Casserole
Two Years Ago Today: Greek-Style Flatbread Pizza
Three Years Ago Today: Fresh Mango Chutney