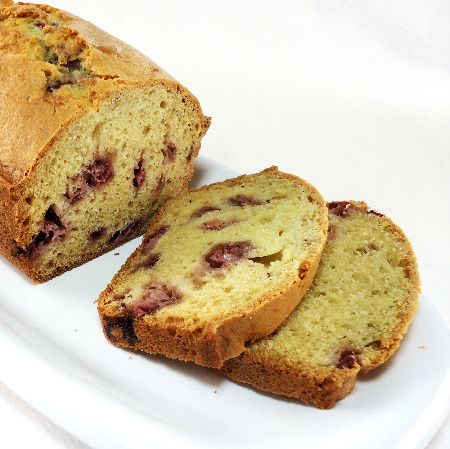 From the kitchen of One Perfect Bite...
Most of the recipes I'll be posting this week are very simple. While none of them come near gourmet standards, I promise those of you who try them will not be disappointed. As a way of thanking the hospital staff who have been caring for the Silver Fox, I decided to bake for them. So, midweek I began making quick and simple treats that could be easily transported. The transportation issue pretty much limited me to cookies and quick breads and this strawberry cream loaf is a really quick, quick bread that they loved. The original version of this recipe was developed in the Betty Crocker test kitchens. It requires no special equipment to make and if you have a bowl and a wooden spoon you can have this bread on your tea table in an hour. I like to serve this plain and honest loaf with a homemade strawberry cream cheese spread. The spread helps dress up the bread and the two paired together make for a wonderful tea time treat. This is a straight forward recipe and it is one that even young cooks can make without difficulty. I hope those of you who are not familiar with the bread will give it and the strawberry cream cheese spread a try. I really think you'll enjoy them both. Here are the recipes.
Strawberry Cream Bread
...from the kitchen of One Perfect Bite inspired by Betty Crocker

Ingredients:
1/3 cup butter, softened
2/3 cup sugar
2 eggs
3 tablespoons sour cream
2 cups flour
1 teaspoon baking powder
1/2 teaspoon baking soda
1/2 teaspoon salt
1 cup strawberries, cut in pieces

Directions:
1) Preheat the oven to 350 degrees. Grease a 9 x 5-inch loaf pan and set aside.
2) Place butter and sugar in a large bowl and beat until light and fluffy. Add eggs and mix to blend. Stir in sour cream, blending well.
3) Add flour, baking powder, baking soda and salt. Mix to incorporate. Do not over beat.
4) Stir strawberry pieces into batter. Spread in prepared loaf pan. Let mixture sit in pan for 20 minutes prior to baking. Bake for 50 – 55 minutes. Transfer pan to a wire cooling rack. Let sit for 10 minutes before before before removing from pan. Slice and serve. Yield: 1 loaf.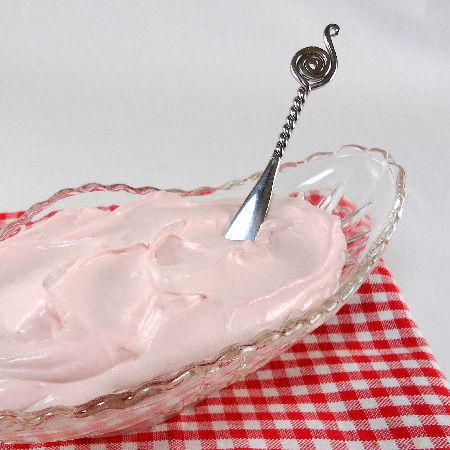 Strawberry Cream Cheese Spread
...from the kitchen of One Perfect Bite courtesy of Southern Foods.com

Ingredients:
1 (8 ounce) package cream cheese, softened
2 tablespoons confectioners' sugar
1 cup fresh sliced strawberries

Directions:
Combine cream cheese, confectioners' sugar, and strawberries in jar of a blender or food processor. Pulse until smooth and well blended. Use immediately, or refrigerate until needed. Yield: 1-1/2 cups.
One Year Ago Today: Asian-Style Stir-Fried Chicken with Broccoli
Two Years Ago Today: Chili Los Mariscos
Three Years Ago Today: Brussels and Liege Waffles