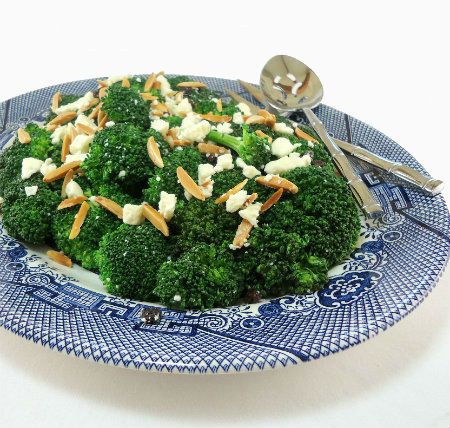 From the kitchen of One Perfect Bite...
We had lovely grilled lamb for dinner last evening. The chops were double-cut and absolutely delicious, but the best part of the meal was the side dishes I made to accompany them. As more of our cooking moves to the grill, I enjoy the extra time it creates in the kitchen and like to use some of it to experiment with recipes that have caught my eye. This salad is a perfect example of a dish that I've been waiting to try. The recipe was developed for fine Cooking magazine and it debuted in my kitchen last night to rounds of applause from taste testers. The salad is reasonably easy to make and the play of ingredients make it an interesting and flavorful starter for meals that will star plain grilled meats. It is a great recipe and there is not much I would do to change it. I did, however, think it would benefit from some additional sweetness. The next time I make this, I plan to substitute 1/4 cup of raisins for the currants and add a pinch of sugar to the salad dressing. They are minor changes and I have not included them in them recipe that appears below. I know that broccoli is not a universally popular vegetable, but I hope those of you who shy away from it will try it in dishes like this. I think you'll be pleasantly surprised. I know I was. Here's the recipe.
Broccoli Salad with Feta, Olive-Oil-Fried Almonds and Currants
...from the kitchen of One Perfect Bite courtesy of Fine Cooking
Ingredients:
1 pound broccoli florets, cut into quarter-size pieces
1-1/2 tablespoons dried currants
1 medium clove garlic
Kosher salt
2 tablespoons red-wine vinegar
Pinch cayenne
5 tablespoons extra-virgin olive oil, divided use
1/2 cup blanched, slivered almonds
3 ounces feta, crumbled (about 3/4 cup)
1/3 cup roughly chopped fresh cilantro (optional)
Directions:
1) Bring a large pot of generously salted water to a boil over high heat.Boil florets until they're tender (pierce with a paring knife or taste a piece) but still offer a bit of resistance, about 3 minutes. Drain broccoli, spread on a baking sheet in an even layer, and set aside to cool—it will continue to cook as it cools.
2) Put currants in a small bowl, add enough hot water to cover, and let sit until softened, about 10 minutes. Meanwhile, using a mortar and pestle or flat side of a chef's knife, mash garlic to a paste with a pinch of salt. Transfer garlic to a small bowl and add vinegar and cayenne. Let sit for about 10 minutes.
3) Warm 1 tablespoon of oil in a small sauté pan over medium heat. Add slivered almonds and fry, stirring frequently, until golden brown, about 2 to 3 minutes. Transfer to a plate lined with paper towels and season with salt.
4) Drain currants. Whisk remaining 4 tablespoons oil into vinegar mixture. Just before serving, combine broccoli, currants, feta, and half of almonds in a large bowl. Drizzle with vinaigrette and toss gently to combine. Taste and season with a pinch more salt if necessary. Transfer to a serving platter and sprinkle with remaining almonds and the cilantro, if using. The salad is best served at room temperature. Yield: 4 to 6 servings.
One Year Ago Today: Lemon Tea Cake
Two Years Ago Today: Tomato Coconut Rice
Three Years Ago Today: Chocolate Bread Pudding