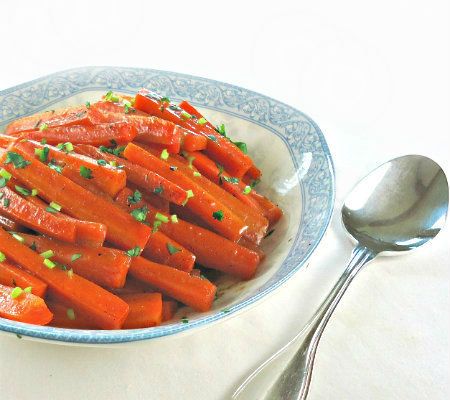 From the kitchen of One Perfect Bite...
We have a birthday to celebrate, but logistics make it really difficult to prepare a special meal for the Silver Fox to enjoy today. That, of course, means we'll be on the prowl searching for the best meal this island has to offer. While I'm not cooking, I do have a recipe that I want to share with you, and I think it is one that most of you will enjoy. I am not a vegetarian, but there are certain vegetables that I really like and can eat out of hand. One of them, a dish that dresses sugar snap peas with sesame oil, can be found here. Another is this fabulous concoction of spiced carrots. This is very similar to a vegetable dish that is served in Morocco, so it would pair perfectly with other dishes from North Africa. I, however, like it because it pairs so well with plain grilled meats or chicken. While the carrots can be served hot, I much prefer them at room temperature. That, of course, means this is a make-ahead dish and I think it is perfect for buffets or large family gatherings. There are no tricks to this preparation and the ingredients you need to make it can be found in any grocery store. If you are handy with a knife, the carrots can be table ready in 30 minutes. There is nothing here not to like and I hope at least a few of you will sample carrots prepared in this fashion. They are quite simply fantabulous. Here's the recipe.
North African Spiced Carrots
...from the kitchen of One Perfect Bite courtesy of Gourmet Magazine

Ingredients:
2 pounds medium carrots (about 12)
2 tablespoons unsalted butter
2 tablespoons brown sugar
1/2 cup water
2 teaspoons fresh lemon juice
1/2 teaspoon salt
1/4 teaspoon cinnamon
1/8 teaspoon cayenne, or to taste

Directions:
1) Quarter carrots lengthwise, then cut into 2-1/2 inch pieces.
2) Heat butter in a 12-inch heavy skillet over moderately high heat until foam subsides, then sauté carrots, uncovered, stirring occasionally, until slightly softened, about 5 minutes. Add brown sugar, stirring until sugar is melted. Stir in water, lemon juice, salt, cinnamon, and cayenne and simmer, covered, until carrots are tender and liquid is reduced to a glaze, 8 to 10 minutes. Yield: 6 servings.
One Year Ago Today: Cream of Tomato Soup with Basil
Two Years Ago Today: Blueberry Glacé Pie