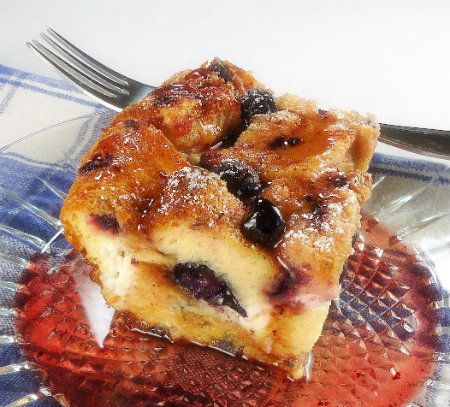 From the kitchen of One Perfect Bite...
This is a nice casserole to serve when you have a crowd at the breakfast table and you'd like to start their day with a special meal. It is a cross between bread pudding and French toast and therein lies the cause of the descriptive restraint that is about to follow. It's neither one thing or the other, and the name is misleading. Made according to the original recipe directions, the casserole looks and tastes far more like bread pudding than French toast. While that's fine for some, it is off-putting to those who are expecting the real thing for their breakfast. Fortunately, I've found that cooking this casserole for an additional 20 to 25 minutes produces a dish that French toast lover's will enjoy. This is an old recipe that first appeared in Taste of Home magazine back in 1996, and that, coincidentally, was the year I first made it for my family. It's one of those recipes that refuses to go away and it keeps on rising from the dead, despite attempts to bury it. The dish requires some forethought, as it must be assembled the night before you want to serve it, but, on the flip side, it is really easy to make. I use a commercial prepared blueberry streusel bread as the base for the casserole and while I've left the full-fat ingredients in the recipe below, I actually use lower fat alternatives. If you are unable to find the blueberry bread a loaf of cinnamon bread can be used. This is a dish that's meant for special occasions, so I don't stress about the extra calories. The casserole is not overly sweet, but I do want to warn you that the syrup can be cloying if too much of it is used. If you are looking for a special family breakfast dish, you might enjoy this one. Here's how it is made.
Overnight Blueberry French Toast
.
..from the kitchen of One Perfect Bite inspired by Patricia Walls and Taste of Home magazine
Ingredients:
Casserole
1 (1-pound) loaf day-old blueberry streusel bread, cut into 1-inch cubes
1 (8-ounce) package cream cheese, cut into 1/2-inch cubes
1-1/4 cups fresh or frozen blueberries, divided use
12 eggs
2 cups light cream or half-and-half
1/3 cup maple syrup
Sauce
1 cup sugar
2 tablespoons cornstarch
1 cup water
1 cup blueberries
1 tablespoon butter
Directions:
1) Grease a 9 x 13 x 2-inch baking dish with butter or cooking spray. Cover bottom of baking dish with half the cubed bread. Dot top of cubes with small, evenly placed pieces of cream cheese. Sprinkle with 1 cup of blueberries. Cover with remaining bread cubes.
2) In a large bowl, beat eggs. Add milk and maple syrup and mix well. Pour over bread mixture. Sprinkle top of casserole with reserved1/4 cup blueberries. Cover and chill 8 hours or overnight. Remove from refrigerator 30 minutes before baking.
3) Preheat oven to 350 degrees F. Cover with foil and bake for 30 minutes. Uncover and bake for another 30 to 50 minutes, or until puffy and golden brown and center is set.
4) To make syrup: In a saucepan, combine sugar and cornstarch. Add water and bring to a boil over medium heat. Boil for 3 minutes, stirring constantly. Stir in blueberries; reduce heat. Simmer for 8 to 10 minutes or until berries have burst. Stir in butter. Serve over French toast. Makes 1-3/4 cups sauce.
5) Cut casserole into desired number of portions. Transfer to plates for serving. Lightly drizzle each serving with a tablespoon of sauce. Pass remaining sauce at table. Yield: 8 to 10 servings.
One Year Ago Today: Bucket Bread
Two Years Ago Today: Courgette and Noodle Salad with Poppy Seed Dressing
Three Years Ago Today: Banh Mi