From the kitchen of One Perfect Bite...
If you are celebrating today, I hope your holiday will be jam packed with family, friends, food and fireworks. I suspect that only cursory attention will be paid to posts today, so I decided to feature some simple recipes for folks who might be looking for last minute ideas for their holiday barbecues. One is a non-alcoholic drink that fizzes when sorbet is added to it. This sipper is raspberry flavored and quite refreshing. It becomes even more enjoyable as the sorbet melts into the drink. The second recipe is for a quick-fix parfait whose colors are flagrantly and unashamedly patriotic.This is a really easy dessert that is assembled rather than baked, and, if you have the ingredients at hand, you can have it on the table in five minutes. Really! Have a delicious day.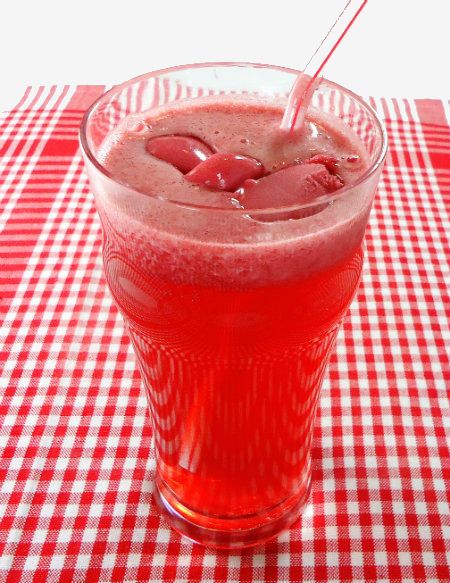 Raspberry Fizz
...from the kitchen of One Perfect Bite courtesy of Real Simple
Ingredients:
1/2 cup sugar
3 tablespoons lime juice
2 cups cranberry juice
3 cups seltzer
1 cup ginger ale
1 pint raspberry sorbet
Directions:
1) Combine sugar and 1/2 cup of water in a small saucepan set over high heat. Bring to a boil and cook until slightly thickened, about 2 minutes. Remove from heat and add the lime juice. Let the lime syrup cool to room temperature.
2) Combine 1/2 cup of lime syrup with cranberry juice, seltzer, and ginger ale in a large pitcher. To serve, pour into glasses and top with scoops of raspberry sorbet. Yield: 6 servings.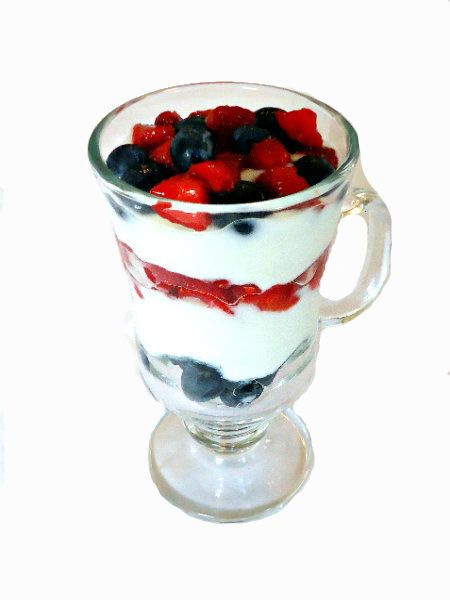 Red White and Blue Parfaits
...from the kitchen of One Perfect Bite courtesy of Better Homes and Gardens
Ingredients:
1 (8 ounce) carton vanilla low-fat yogurt
1/4 teaspoon almond extract or 1/2 teaspoon vanilla
1/2 (8 ounce) container frozen light whipped dessert topping, thawed
3 cups fresh raspberries and/or cut-up fresh strawberries
3 cups fresh blueberries
Directions:
1) Combine yogurt and extract of choice in a large bowl and whisk to blend well. Fold in whipped topping.
2) To serve: Alternate layers of berries with layers of yogurt mixture in six (12-ounce) glasses. Yield: 6 servings.
One Year Ago Today: White Chocolate and Macadamia Nut Muffins
Two Years Ago Today: Sangria
Three Years Ago Today: Orange Yogurt Cake