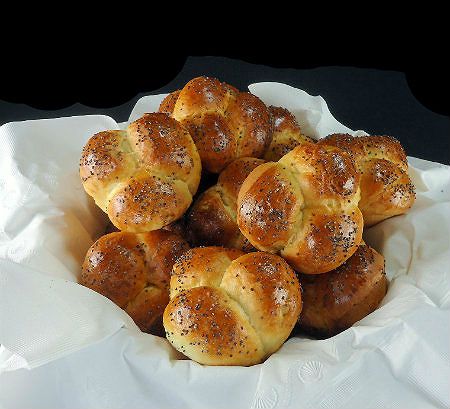 From the Kitchen of One Perfect Bite...

No holiday here on the hill would be complete without warm dinner rolls. We have a lot going on this year, so I've fallen back on a very simple recipe I found in Gourmet magazine over a decade ago. I love the rich color of these buns and because they can be reheated without sacrificing quality, they are a great make-ahead candidate for the holiday table. The recipe is straight forward and can be made entirely by hand. If you feel more comfortable using your mixer, by all means do so. The rolls have a lovely crust that I know you will enjoy. If your menu is not yet set in stone, you might want to give this recipe a try. Speaking of menus, I promised some of you that I'd post our holiday menu today. Recipes for these dishes will be featured over the course of the next few weeks. Here's what is happening at our house tomorrow.
Thanksgiving Menu
Andean Corn Chowder
Apple and Escarole Salad with Oregon Blue Cheese and Hazelnuts
Roasted Double Rack of Pork with Morel Mushroom Pan Sauce
Bacon, Leek and Mushroom Dressing
Gratin Dauphinois
Braised Brussels Sprouts with Bacon and Golden Raisins
Creamed Corn
Cloverleaf Rolls
Apple and Apricot Tart
Sweet Potato Pie
Maple-Walnut Tart
Cloverleaf Rolls
...from the kitchen of One Perfect Bite courtesy of Gourmet magazine
Ingredients:
3 tablespoons warm water
1 (1/4-ounce) package active dry yeast (2-1/2 teaspoons)
3 tablespoons sugar, divided use
1 stick (8 tablespoons) unsalted butter, divided use
1 cup whole milk
2 cups bread flour
1-1/2 teaspoons salt
1-1/2 to 2 cups all-purpose flour
1 large egg, lightly beaten with 2 teaspoons water
1 tablespoon poppy seeds and/or toasted sesame seeds for sprinkling
Directions:
1) Stir together warm water, yeast, and 1 tablespoon sugar in a small bowl until yeast is dissolved. Let stand until foamy, about 5 minutes.
2) Melt 6 tablespoons butter in a small saucepan, then add milk and heat to lukewarm. Stir together yeast mixture, remaining 2 tablespoons sugar, butter mixture, bread flour, and salt in a bowl with a wooden spoon until combined well, then stir in 1-1/2 cups all-purpose flour, or enough to make a slightly sticky dough.
3) Butter a large bowl. Knead dough on a lightly floured surface, kneading in more all-purpose flour as needed to keep dough from sticking, until smooth and elastic, about 10 minutes (dough will still be slightly sticky). Form dough into a ball. Grease a large bowl and place dough in it, turning to coat. Cover bowl with plastic wrap and let dough rise in a warm place until doubled in bulk, about 1 hour.
4) Butter 18 muffin cups with remaining 2 tablespoons butter. Turn out dough onto a lightly floured surface and divide into thirds. Working with 1 piece at a time (keep remaining portions covered with plastic wrap), cut off tablespoon pieces of dough and form pieces into balls. Put 3 balls into each buttered muffin cup. Let rolls rise, loosely covered with a kitchen towel (not terry cloth), in a warm place until almost doubled in bulk, 30 to 40 minutes.
5) Preheat oven to 400 degrees F. Brush rolls lightly with egg wash and sprinkle with seeds. Bake until golden, 15 to 20 minutes. Serve warm. Yield: 18 rolls.
Cooks' note: Rolls can be baked 1 day ahead and cooled completely, then kept, wrapped well in foil, at room temperature. Reheat in foil in a preheated 350 degrees F oven for 15 to 20 minutes.
One Year Ago Today: Frozen Maple-Mousse Cake with Candied Cranberries
Two Years Ago Today: Quick and Creamy Pumpkin Pudding
Three Years Ago Today: Pot Roast with Potatoes and Carrots