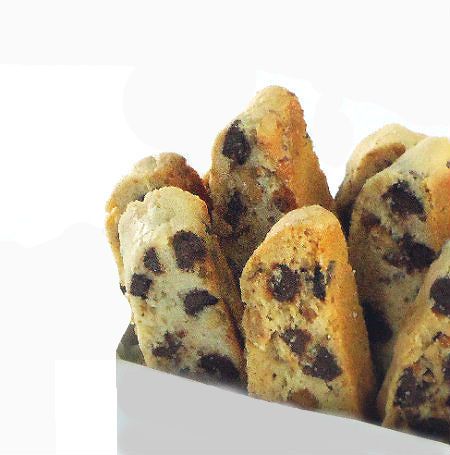 From the kitchen of One Perfect Bite...

I've finally found the perfect "dunker" for the holiday baskets I'm constructing. It is an Eastern European biscuit that some folks call a Jewish biscotti. Of course, if you your background is Eastern European, you probably prefer to call it mandelbrot, or almond bread. While no one can pinpoint its origins with certainty, it's thought that itinerant Jews carried biscotti with them on journeys from the Piedmont in Italy into Eastern Europe, where the cookie was assimilated because its ingredients adhered to Kosher dietary law. I love biscotti, but I've found it hard to find really good recipes for this twice baked treat. I was delighted to find this version on the King Arthur Flour site. The step-by-step instructions that accompany this recipe are outstanding and can be found here. I'm planning to adapt their baking method to some of my other biscotti which occasionally get too hard. These are perfect. The add-ins to the basic recipe can be altered to reflect seasonal preferences and I'm willing to wager that dried cranberries and pistachios would be perfect changes for the Christmas cookie tray. I'll let you know. I hope you'll give this recipe a try. The mandelbrot are really easy to make and the results are outstanding. I'll be baking them often. Here's how they are made.
Chocolate Chip and Walnut Mandelbrot
...from the kitchen of One Perfect Bite courtesy of King Arthur Flour
Ingredients:
3 large eggs
1 cup (7 ounces) vegetable oil
1 cup sugar
1 teaspoon vanilla extract
1 teaspoon salt
3-1/2 cups unbleached all-purpose flour
1 teaspoon baking powder
2 cups semi-sweet chocolate chips
1-1/2 cups walnut pieces
Optional: coarse white sparkling sugar
Directions:
1) Combine eggs, oil, sugar, vanilla and salt and beat in bowl of a stand mixer and beat until thickened and light-colored, about5 minutes.
2) Beat in flour and baking powder.
3) Mix in chips and nuts. Cover and refrigerate for 3 hours, or overnight.
4) Preheat oven to 350 degrees F. Lightly grease (or line with parchment) two baking sheets.
5) Divide dough into four even pieces, about 13 ounces each if you have a scale.
6) Working with one piece at a time, place dough on prepared baking sheet, shaping it into an 8 x 2-inch log. Repeat with remaining pieces of dough, leaving at least 2 inches between them. Place 2 logs on each baking sheet. Sprinkle logs heavily with coarse white sugar, if desired.
7) Bake logs until they're set and beginning to brown on edges and sides, but not brown all over, about 28 to 30 minutes. Remove them from the oven, and reduce oven temperature to 300 degrees F.
8) Spritz logs lightly with water. Spritzing logs will make them easier to cut. Allow them to cool for 10 minutes.
9) Cut each log into 1/2 to 3/4-inch slices. Cutting them on the diagonal will make the mandelbrot longer; cutting them crosswise will yield shorter cookies.
10) Place pieces on edge, quite close together, on the baking sheets, and return them to the oven. Bake for an additional 35 to 45 minutes, or until a cookie feels baked through when you pinch it between your fingers. You'll also notice some browning around the edges, though cookies shouldn't be browning all over.
11) Remove from oven, and cool mandelbrot right on the baking sheets. Yield: about 58 cookies.
One Year Ago Today: Greek Lemon Yogurt Mousse
Two Years Ago Today: Quick and Crusty Hard Rolls
Three Years Ago Today: Sauteed Christmas Peppers