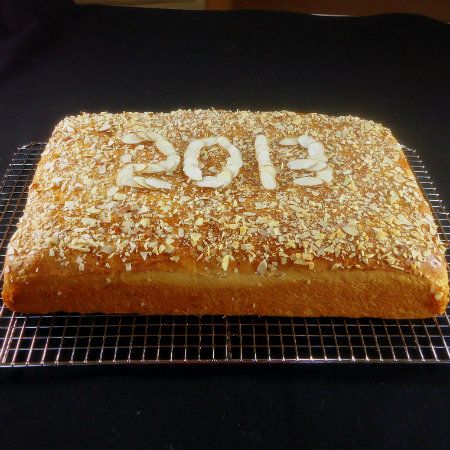 From the kitchen of One Perfect Bite...

I'm sending all of you, wishes for health and happiness in the coming year. I hope that you and your families thrive, and that the New Year brings all measure of good things your way. I've been looking for recipes festive enough to start the New Year with a bang and, at the last minute, I found one cloaked in the tradition and lore of the Greek people and the liturgical calendar of the Greek Orthodox church. In Greece, January 1st marks the feast of St. Basil, as well as New Year's Day. Now, Basil was a fourth century bishop who wanted to return money, unfairly taken by others, to the poor of his Diocese. To accomplish that, he commissioned the baking of a sweetened bread that was to hide the coins and treasure being returned to their rightful owners. Somehow, everyone received exactly what had been taken from them and Basil is credited with the miracle. His gift to the people, is commemorated in Orthodox homes each year on January 1st, by the baking of a bread to which sweets and a coin have been added. For believers, the bread, which is called, Vasilopita, is the symbol of the sweetness and joy of corporeal and everlasting life. When the bread is prepared, a coin is usually kneaded into the dough and when it is cut the person who receives that portion of the bread is considered blessed. There are many recipes for Vasilopita and the bread can take many forms. I've chosen a simple recipe and even simpler form to share with you tonight. The date on top of the bread is a secular addition that has gained favor in recent years. This is a mildly sweet and anise-flavored bread that is traditionally cut at midnight by the head of the family. To honor the memory of St. Basil, he will cut a piece of the bread as a symbolic offering to the poor and needy of the world. The bread is lovely and the story is sweet. Here's how it is made.
Vasilopita - St. Basil's Bread
...from the kitchen of One Perfect Bite courtesy of the Orthodox Kitchen
Ingredients:
6 cups + 1/2 cup bread flour, divided use
2-1/4 teaspoons package dry yeast
2 cups warm milk, divided use
1 teaspoon salt
1/2 teaspoon cinnamon
1/2 teaspoon nutmeg
1/2 teaspoon anise seed
1/2 cup sugar
4 eggs, divided use
3/4 cup melted butter
Crushed almonds, for a topping
1 coin (cleaned)

Directions:
1) In a small mixing bowl, mix together 1/2 cup of warm milk, yeast, and 1/2 cup of flour. Let the mixture rise in a warm place for 45 minutes.
2) Place remaining 5-1/2 cups of flour in a large mixing bowl. Whisk in salt, cinnamon, nutmeg and anise seeds. Make a well in center of flour mixture. Add yeast mixture, 3 eggs, butter and remaining 1-1/2 cups of milk and mix well. Turn onto a lightly floured board and knead for at least five minutes, adding more flour as needed to form a smooth though slightly sticky dough. Tuck a coin into dough before pressing into a well-greased 9 x 13-inch pan. Cover and let the dough rise until double in bulk, about1-1/2 to 2 hours.
3) Preheat oven to 350 degrees f. Beat reserved egg with 1 teaspoon water. Brush top of dough with some beaten egg and then sprinkle crushed almonds over the top.
4) Bake until crust is a golden brown and the bread sounds hollow when thumped on the bottom (about 45 -55 minutes). Cool in pan for 10 minutes. Remove from pan and complete cooling on a wire rack. Yield: 1 large loaf or 12 to 16 pieces.
One Year Ago Today: Muhammara
Two Years Ago Today: Bouillabaise la Marseillaise
Three Years Ago Today: Mexican Beer-Cheese Spread