It's been a busy and exciting week. I was the recipient of two awards that I'd like to play forward to some really talented women.
I had the good fortune to receive the Brillante Weblog award from Lisa at
Jersey Girl Cooks
. I, in turn, am passing that award to Julie at
Peanut Butter and Julie.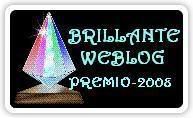 I, also, received the Yummy Blog Award from Lorie at
Rice, Beans and Other Fine Things
and want to pass that on to Candy at
The Courageous Cook
.

These gals all have wonderful blogs and I hope you'll visit them often. Each is unique and has something singular to offer. Take a peak!
I came across an article in Metro magazine that identifies
Food Trends
that will be of interest to fellow recipe developers and lovers of good food.
Food for thought...
"Happy and successful cooking doesn't rely only on know-how; it comes from the heart, makes great demands on the palate and needs enthusiasm and a deep love of food to bring it to life."
Georges Blanc