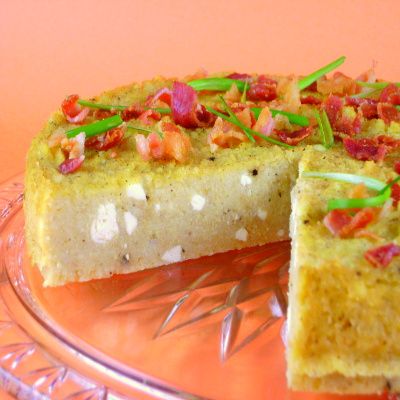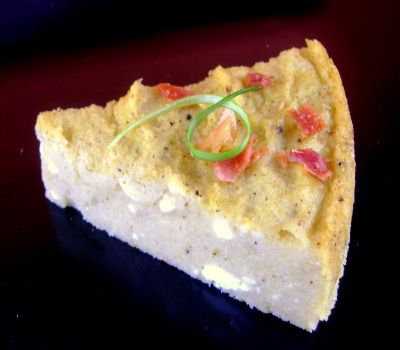 From the kitchen of One Perfect Bite...
Mămăligă (pronounced mer mer li ger) is a polenta that many call the national dish of Romania. While once thought to be peasant food, it has slowly made its way to homes and the tables of upscale restaurants around the world. Romanian's combine cornmeal with butter and cheese to produce a unique polenta that is wonderful with eggs, cheese, mushrooms or the soured cream they call smântană. I learned how to make it several years ago while at a cooking competition in New York City. The event was held at the Institute of Culinary Education and because we had to prepare our entry 5 times, each contestant was assigned an assistant to help with the work. The rules were a bit out of the ordinary in that we had to make the first of the entries by ourselves but the remainder could be completed with the help of the assistant. I was really fortunate. My assistant, who really knew her stuff, was from Romania and we got along famously. Towards the end of a long but lovely morning, I asked about the food of Romania and that's how I came to learn of mămăligă. I suspect that you'll have a problem finding kashkaval cheese, but provolone or mozzarella can be substituted. If you're looking for something that's different but delicious, give this a try. Preparation is simple but the baked mămăligă should sit for several hours before serving.
Mamaliga Baked with Cheese
...from the kitchen of One Perfect Bite

Ingredients:
1 cup + 2 tablespoons coarse ground cornmeal
4 cups water
1/4 cup butter
1-1/2 cups crumbled feta cheese
1/2 cup kashkaval or provolone, grated
Salt and freshly ground black pepper
Garnish:
Bacon and scallions, sliced lengthwise

Directions:
1) Preheat oven to 375 degrees F. Grease a 9-inch springform pan. Set aside.
2) Place cornmeal in a large, heavy skillet and dry-fry over medium heat until it changes color, about 3 to 4 minutes. Remove from heat. Slowly add water, stirring constantly to combine. Add a pinch of salt. Return to heat. Continue to stir until cornmeal begins to thicken. Cover, reduce heat and cook for 25 minutes, stirring often. When a spoon leaves a trail in the mixture it is done. Remove from heat. Stir in butter and feta cheese. Season well with salt and pepper.
3) Spoon mixture into prepared pan. Bake until firm, about 25 to 30 minutes. Cool. Let sit for 2 to 3 hours, or overnight. Sprinkle with provolone, bacon and scallions. Serve with a mushroom ragu, sour cream or a chunky tomato sauce. Yield: 6 servings.