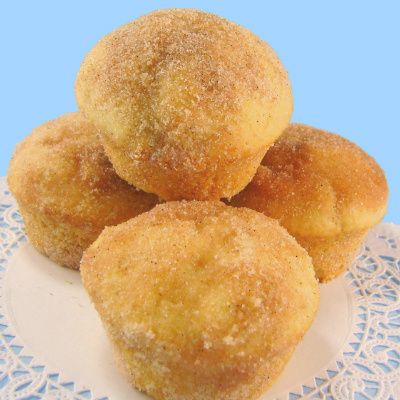 From the kitchen of One Perfect Bite...
We have a code known only to the folks who call this house home. When Bob comes into the kitchen for his first cup of coffee and the kitchen is in glorious disarray, he knows exactly what's going on. "You gotta a thing this morning?" I nod affirmatively. "Whatcha making?" I smile broadly and parry, "Stuff." I had a lot of "stuff" to make for my "thing" this morning and, with a still limited range of motion, it also had to be easy to do. I remembered these delightful muffins and decided to resurrect the recipe which is almost as old as I am. French Breakfast Puffs were first made in Florida by the mother of Esoline Beauregard's. Her recipe appeared in the Betty Crocker cookbook and the puffs became and remained enormously popular in American kitchens. They lack the cache of croissants or the wide appeal of bagels, but they have withstood the test of time. These morsels taste a bit like cake donuts, though they are less dense. I can't say they are lighter because each muffin is dunked in melted butter before it's coated with cinnamon sugar. While the muffins are quite pleasant on their own, the bath in butter and sugar is what made their reputation. Think snickerdoodles and you'll understand why folks love them. Years ago, all surfaces of the muffins were coated. I no longer do that, but it is important to let the muffin tops sit in butter for a minute or two before they are rolled in sugar. These do not keep well and they are best served warm. Here's the recipe for a very easy old-fashioned treat that just won't go away.
French Breakfast Puffs
...from the kitchen of One Perfect Bite, courtesy of Betty Crocker
Ingredients:
1/3 cup shortening or butter
1/2 cup sugar
1 egg
1-1/2 cups all-purpose flour
1-1/2 teaspoons baking powder
1/2 teaspoon salt
1/4 teaspoon ground nutmeg
1/2 cup milk
1/2 cup sugar
1 teaspoon ground cinnamon
1/2 cup butter, melted
Directions:
1) Heat oven to 350 degrees F. Grease 12 medium muffin cups.
2) Mix shortening, 1/2 cup sugar and the egg thoroughly in medium bowl. Stir in flour, baking powder, salt and nutmeg alternately with milk. Divide batter evenly among 9 muffin cups.
3) Bake 20 to 25 minutes or until light golden brown. Mix 1/2 cup sugar and the cinnamon. Immediately roll hot muffins in melted butter, then in sugar-cinnamon mixture. Serve hot. Yield: 9 muffins.
You might also enjoy these recipes:
Raspberry Streusel Muffins - One Perfect Bite
Blueberry and Lemon Cake-Style Muffins - One Perfect Bite
Blue Corn Muffins - One Perfect Bite
This recipe is being linked to:
Designs By Gollum - Foodie Friday