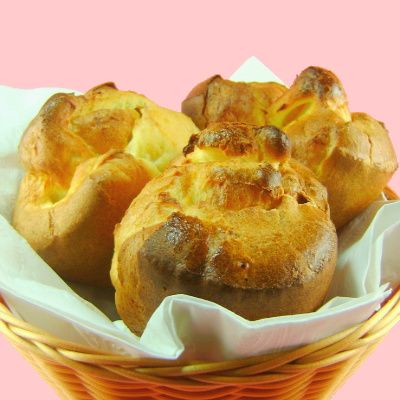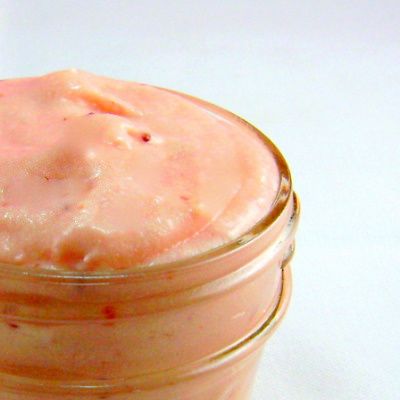 From the kitchen of One Perfect Bite...
Easter and Passover will soon be here and I wanted to make sure I posted holiday recipes in time for your consideration. At Bob's suggestion, I'm going to begin with breakfast or brunch dishes that are unusual or will make entertaining a house full of people easier. I have two recipes to share with you today. One of them is a decade old recipe for popovers that was developed by Pam Anderson. Her recipe is unusual because it uses instant blending flour and that eliminates the wait time that is necessary to relax the gluten in all-purpose flour. That means that you can mix and bake popovers and have them on the breakfast table within an hour. You're probably familiar with the instant blending flours and use them for browning or thickening soups or stews. This type of flour goes through a special milling process that gives it a granular form that is much like sugar. It's perfect for sauces and gravies because it dissolves easily in liquids. Some restaurants use it to help brown meat. It can also be used for batters, quick breads, muffins and cakes. If you haven't had popovers for a holiday breakfast or brunch I hope you'll give them a try. They are really easy to make and when served warm with a fruit butter they are a real treat. The second recipe is for a strawberry butter that is a perfect accompaniment to the popovers. It, too, is easy to make. Here are the recipes.
Popovers
...from the kitchen of One Perfect Bite courtesy of Pam Anderson
Ingredients:
1-1/2 cups instant blend flour (i.e. Wondra)
1 teaspoon slt
1-1/2 cups skim milk
4 large eggs
2 tablespoons melted butter
Directions:
1) Adjust an oven rack to lower middle position. Preheat oven to 425 degrees F. Spray a 12-cup muffin pan or cups of 2 popover pans with vegetable cooking spray. Set aside.
2) Mix flour and salt in a medium bowl. Mix eggs, milk and butter in a 1-quart measuring cup. Beat egg mixture into flour mixture until batter is smooth. Return batter to measuring cup. Return batter to 1-quart measure and pour into prepared cups, filling each three-fourths full.
3) Bake, without opening oven door, until popovers are crisp and golden, about 35 minutes. Twist gently to loosen from pan, then cool. Yield: 8 to 12 servings.

Strawberry Butter
...from the kitchen of One Perfect Bite
Ingredients:
1/2 cup butter, room temperature
1/4 cup cream cheese, room temperature
1/4 cup confectioners' sugar
2 to 4 tablespoons strawberry puree or preserves
Directions:
Beat butter and cheese in a small bowl until smooth and creamy. Add sugar and strawberry puree and beat to combine. Transfer to a 1-cup ramekin. Cover with clear plastic wrap and refrigerate until 30 minutes before serving. Yield: 1 cup.
You might also enjoy these recipes:
Gluten-Free Pancakes - One Perfect Bite
Maple Butter - One Perfect Bite
Brussels and Liege Waffles - One Perfect Bite
This post is being linked to:
Pink Saturday
, sponsored by Beverly at How Sweet the Sound.