A golden soup to brighten a stormy day on the Oregon coast.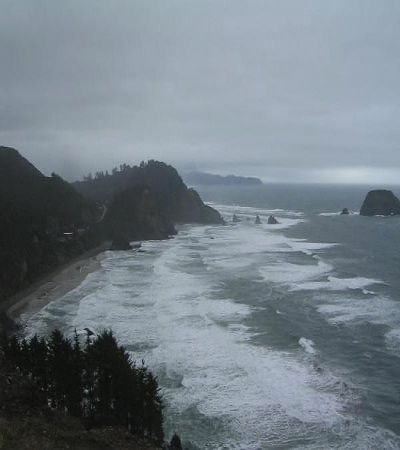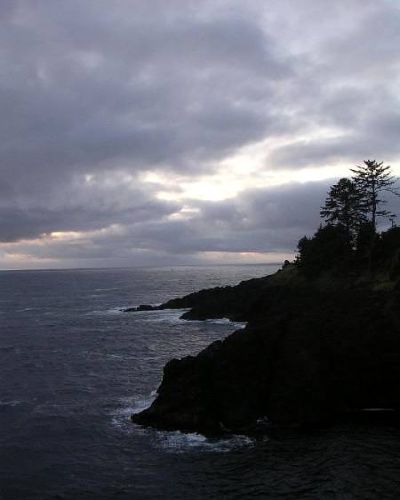 From the kitchen of One Perfect Bite...
Storms pass, but when you're in the midst of one it's wonderful to have a meal that will warm the cockles of your heart. Bob is grilling a chicken to accompany this wonderfully light soup that originated in a Florentine trattoria. Its molten color evokes summer and the soup captures the heady flavor of peppers that have ripened under the Tuscan sun. Served hot or cold, Passato di Peperoni, is a perfect first course, and a wonderful way to begin a meal. This is really simple to make. The trick to making what could be an ordinary soup spectacular lies in the roasting of the peppers. No short cuts should be taken here. I've found I get the best flavor if the peppers are drizzled with olive oil and placed in a 375 degree oven for 30 minutes before they go into the stockpot. Once that's done, you're on your way to having one of the best soups you've ever tasted. I highly recommend this. As a matter of act, I happen to love this soup. Serve it with a lovely salad, some great bread and plain grilled meat or poultry for a peasant feast that kings will envy. Here's the recipe.
Roasted Yellow Pepper Soup - Passato di Peperoni
...from the kitchen of One Perfect Bite inspired by Patricia Wells

Ingredients:
2 tablespoons olive oil + olive oil for drizzling
1 large carrot, peeled and finely chopped
1 large celery stalk, finely chopped
1 medium onion, finely chopped
2 pounds thick-skinned yellow peppers, roasted and sliced
Salt and pepper
2 medium-size baking potatoes, peeled and diced
1 quart water
2 cups chicken broth

Directions:
1) Combine olive oil, carrot, celery and onion in a stockpot set over medium heat. Saute until vegetables are soft and fragrant, about 10 minutes. Add roasted peppers and cook for 5 minutes longer. Season with salt and pepper. Add potatoes, water and chicken broth. Bring to a simmer and cook, covered, until potatoes are tender, about 20 minutes.
2) Use an immersion mixer or a blender to puree soup. If using a blender puree soup in batches to prevent burns. Season to taste with salt and pepper. Serve in soup bowls, drizzling each portion with a generous amount of olive oil. Yield: 6 to 8 serving.
You might also enjoy these recipes:

Tuscan Bean Soup - One Perfect Bite
Avgolemono - One Perfect Bite
Tortilla Soup - One Perfect Bite
Easy Black Bean and Chorizo Soup - Stacy Snacks
Roasted Red Pepper Soup - Klutzy Chef
Roasted Cauliflower Red Pepper and Garlic Soup - Savoring the Thyme
Creamy Corn and Red Pepper Soup - Simply Life
Pepper Soup - eCurry
Roasted Red Pepper and Tomato Soup - One Perfect Bite