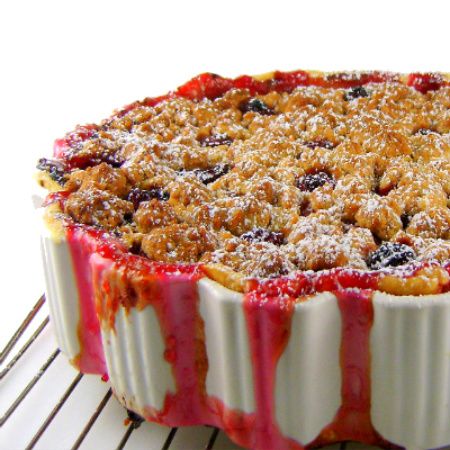 The only thing better than cherry pie is an afternoon with Thomas the Train.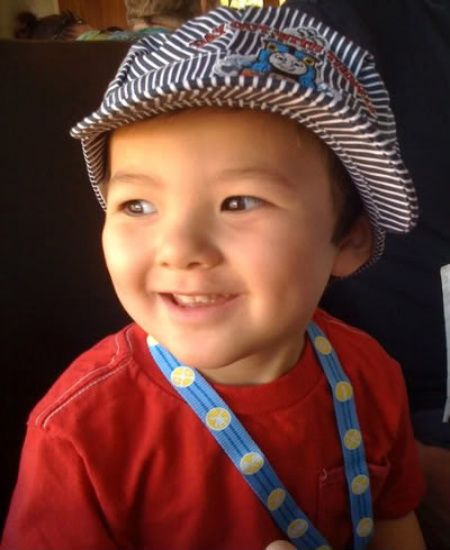 From the kitchen of One Perfect Bite...
The highlight of Bob's birthday celebration was a parade of his favorite pies. The first, of course, was the blueberry icebox pie featured here a day or so ago. Today, I want to highlight a sour cherry pie. It's one of the best pies I've ever tasted and it was a regular feature in the summer kitchens of my Midwestern childhood. Bob's family lived about a mile from my own and we were exposed to many of the same foods as children. We both love this dessert and share memories of pitting cherries for the pie. We are of an age when it was not unusual to see children sitting on stoops helping to prepare fruit or vegetables for the dinner table. That means we shelled peas and learned to string beans at a very young age. We also had impressive paring knife skills. For a long period of time, folks my age reveled in the development of frozen food and thought that Clarence Birdseye deserved a special place in heaven for his part in making food preparation so much easier than it had been. The grand irony is that we have come full circle and are now back to shelling peas and stringing beans for our tables. To make this pie you are going to need frozen tart or sour cherries that have been pitted. If you opt to use fresh cherries make sure you weigh them after pitting to assure the proportions in the recipe remain the same. I'd also suggest adding an extra tablespoon of tapioca because they will release more liquid as they cook. You will need enough pastry to form a one crust pie. While a homemade short crust is ideal, a commercial product will also work well. This is an easy pie to make and the streusel topping makes it a bit unusual. Here's the recipe.
Cherry Pie with Streusel Topping
...from the kitchen of One Perfect Bite
Ingredients:
Pastry for a single crust pie
Crumb Topping
6 tablespoons butter, room temperature
1/4 cup firmly packed golden brown sugar
1 egg white, lightly beaten
1/2 teaspoon vanilla extract
3/4 cup all-purpose flour
1/4 teaspoon kosher salt
Filling
5 cups (2-lbs.) quick-frozen (IQF) tart pitted cherries
1 cup granulated sugar
4 tablespoons instant tapioca

Directions:
1) Roll pastry to fit a 9-inch pie or quiche pan. Refrigerate until ready to fill. Preheat oven to 425 degrees F.
2) Combine butter and sugar in a small bowl. Blend with a fork until creamy. Mix in egg white and vanilla and stir until incorporated. Sift flour and salt into butter mixture and stir until combined. Refrigerate while making filling.
3) Combine individually frozen cherries, sugar and tapioca in a large bowl. Toss to distribute tapioca and sugar among the cherries. Let stand for 20 minutes. The fruit should still be at least partially frozen.
4) Turn filling into pie shell. Crumble topping over cherries, leaving some fruit showing so steam can escape from filling as pie bakes.
5) Bake for 10 minutes. Reduce oven temperature to 400 degrees F and bake for about an hour until the topping is nicely browned and filling bubbles slightly. If edges darken too quickly cover with aluminum foil. Transfer to rack to cool. Yield: 8 servings.
You might also enjoy these recipes:
Apple Custard Pie with Streusel Topping - One Perfect Bite
Rhubarb and Red Berry Pie - One Perfect Bite
Mile High Apple Pie with Cranberries