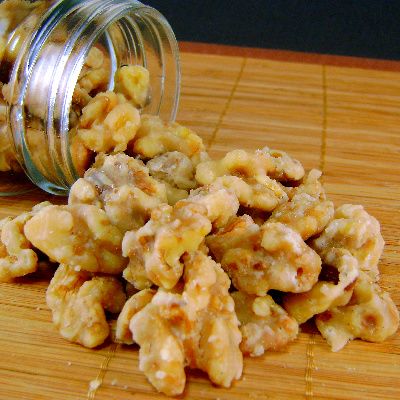 From the kitchen of One Perfect Bite...
I make it a point to keep a supply of candied walnuts and pecans in the pantry. I use them often enough to warrant making them in quantity and that, coincidentally, allows me to avoid the expense of the commercial variety that I favor. We don't eat these out of hand, but I do use them in salads and to top certain of the desserts we enjoy. Years ago, Bob and I fell in love with a French salad of watercress and endive that is lightly dressed with vinaigrette and tossed with candied walnuts. We have the salad at least once a week and I've convinced myself that it is not an extravagance as long as I make the nuts myself. My stash allows me to overlook the outrageous cost of Belgian endive and watercress. Foolish I know, but we all have grand deceptions we visit upon ourselves. This happens to be one of mine. I have several recipes for candied nuts and the one I'm sharing tonight is the one my family most enjoys. Regular readers know that I have a great deal of faith in the test kitchens of some commercial ventures. I've had exceptionally good luck with the recipes that come from the Diamond Walnut test kitchen. Let me immediately interject that mine is an unsolicited and unpaid observation. I am in no way affiliated with these people and am merely sharing personal observations and experience. If you have a need for candied nut meats and are comfortable using a candy thermometer, I think you'll love this recipe. The nuts can be stored in an airtight container for several weeks. Here's how they are made.
Candied Walnuts
...from the kitchen of One Perfect Bite, courtesy of Diamond Walnut test kitchen

Ingredients:
1-1/2 cups granulated sugar
1/4 teaspoon salt
1/4 cup honey
1/2 cup water
1/2 teaspoon vanilla
3 cups walnut halves or large pieces
Directions:
Boil sugar, salt, honey and water together, stirring often to 242 degrees F on a candy thermometer (firm, soft ball stage). Remove from heat and add vanilla and walnuts. Stir until creamy. Turn out on waxed paper; separate walnuts, using two forks.
You might also enjoy these recipes:
Candied Walnuts - 400 Calories or Less
Roasted Walnuts with Rosemary - The Dog's Breakfast
Orange Glazed Walnuts - Meals 4 Moms
Candied Walnuts - Delicieux
Walnut Brittle with Orange Zest and Sea Salt - Eat Real
Maple-Rosemary Glazed Walnuts - Pinch My Salt
Maple Syrup Candied Walnuts - The Family Kitchen