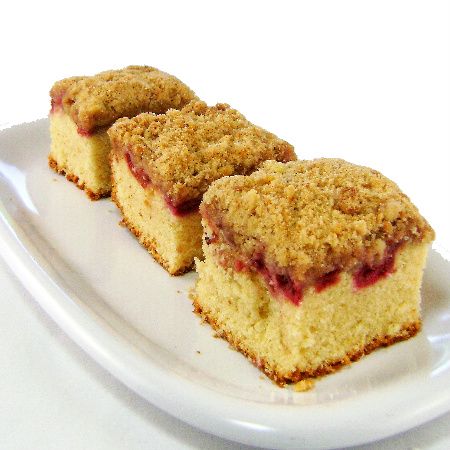 From the kitchen of One Perfect Bite...
Fruits and berries that are grown in our area are late to market this year. Local strawberries began to appear in farm stands and green markets about 2 weeks ago, but they are still not prime. Each year, I play my own version of Russian roulette, and, to insure the most intense flavor, I postpone buying flats of them for as long as I possibly can. A few years back, I outsmarted myself and we ended up with no berries at all for the freezer or canning kettle. I must be a gambler at heart, because I've postponed going long in berries again this year. The upside to all of this is, that while I'm waiting for strawberries, I've been working on recipes that use sweet or sour cherries. Now, in keeping with my policy of complete disclosure, I must tell you these are not Oregon cherries. They are imported from Washington state to fill market shelves, and, while they are immigrants, they are especially delicious this year. The simple snack cake that I'm featuring today comes from a recipe I've adapted from Martha Stewart's website. The cake is really easy to make and the cherries give it a unique flavor. While I serve this for brunch, it would be a great cake for morning meetings where you would like to serve something new. The cake can be made with fresh or frozen berries. If you use frozen berries, they must be defrosted and drained before they are added to the cake batter. This is a great dessert for those who like their treats barely sweet. Here's the recipe.
Sour Cherry Crumb Cake
...from the kitchen of One Perfect Bite inspired by Martha Stewart
Ingredients:
Topping
2 tablespoons unsalted butter, melted, plus more for dish
1/3 cup all-purpose flour, plus more for dish
2 tablespoons granulated sugar
2 tablespoons packed light-brown sugar
1/8 teaspoon salt
1/4 teaspoon ground cinnamon
Cake
1 -1/2 cups all-purpose flour
1 teaspoon baking powder
1/4 teaspoon salt
8 tablespoons (1 stick) unsalted butter, softened
3/4 cup granulated sugar
2 large eggs
3/4 teaspoon pure vanilla extract
1/2 teaspoon almond extract
1/4 cup buttermilk
2 1/2 cups (1 pound) fresh sour cherries, pitted
Directions:
1) Preheat oven to 350 degrees. Butter a 9-inch square baking dish, and dust with flour, tapping out excess.
2) To make topping: Stir together butter, flour, sugars, salt, and cinnamon. Set aside.
3) To make cakes: Whisk together flour, baking powder, and salt in a bowl. With a mixer, cream butter and granulated sugar in another bowl until pale and fluffy. Beat in eggs and vanilla and almond extract. Working in alternating batches, add flour mixture and buttermilk, beginning and ending with flour mixture. Beat until just combined. Pour into prepared pan, and smooth with an offset spatula. Dot top with cherries, and sprinkle with crumb topping. Bake until golden and a tester inserted into center comes out clean, about 1 hour. Let cool before cutting. Yield: 9 servings.
Cook's Note: Frozen cherries, thawed and drained, may be substituted for fresh cherries.
One Year Ago Today:
Rosemary Aioli
Two Years Ago Today:
Shrimp Toast
You might also enjoy these recipes:
New York-Style Crumb Cake - The Galley Gourmet
Blueberry Crumb Cake - Stylish Cuisine
Peachy Pecan Coffee Cake - Sweet Kat's Kitchen
Strawberry Coffee Cake - Shih's Cooking
Raspberry Buckle - The Farmer's Wife