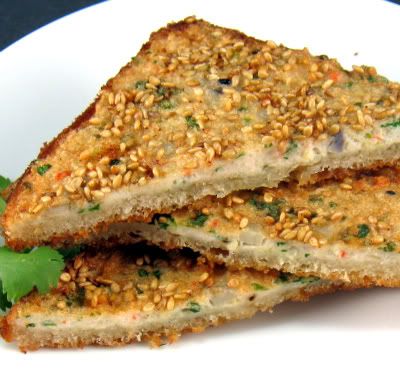 From the kitchen of One Perfect Bite...

Years ago these were served as hors d'oeuvres. I've never thought that anything deep fried tastes like much unless it's served really hot, so I never bothered with them. When we were in China these were served with soups and I had to rethink the position I'd taken. When properly made and served quickly these are delicious. If you're looking for something a little different to serve for lunch you might want to give these a try. A food processor makes their assembly quick work.
Shrimp Toasts
...from the kitchen of One Perfect Bite
Ingredients:
1/2 pound shrimp in shells, peeled and deveined
1 tablespoon finely chopped peeled fresh ginger
1 tablespoon Asian sesame oil
1 tablespoon rice wine or medium-dry Sherry
1 large egg white
1/4 cup coarsely chopped water chestnuts
2 tablespoons chopped fresh cilantro
2 scallions (white and pale green parts only), thinly sliced
6 cups vegetable oil for frying
12 very thin slices firm white sandwich bread, crusts discarded
1/4 cup sesame seeds
Directions:
1) Place shrimp, ginger, sesame oil, rice wine, and egg white in a food processor and pulse until a coarse purée forms; transfer to a bowl. Stir in waterchestnuts, cilantro, scallions, and salt and pepper to taste.
2) Heat 2 inches vegetable oil in a 3-quart saucepan over moderately high heat until it registers 375 degrees F. on deep-fat thermometer.
3) While oil heats, divide shrimp spread among bread slices (about 2 tablespoons per slice) and spread evenly to edges. Sprinkle with sesame seeds, then gently press seeds into shrimp spread to make them stick.
4) Fry 2 bread slices, shrimp sides down, until shrimp is browned, about 1 minute. Turn over and fry until undersides are golden, about 30 seconds. Transfer to paper towels to drain. Fry remaining slices in same manner. Cut each toast diagonally into 2 triangles and serve immediately. Yield: 6 servings.
Recipe adapted from the Gourmet Cookbook courtesy of Ming Tsai.