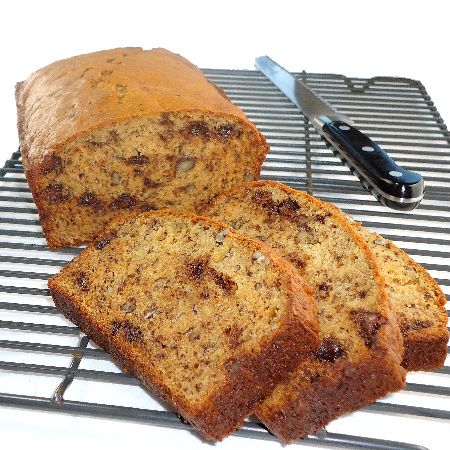 From the kitchen of One Perfect Bite...
I wish all delicious things could be beautiful and appealing to the eye. Unfortunately, it doesn't always work that way. This quick bread is a perfect example of what I mean. It is wonderfully moist and flavorful, but it is homely in the extreme, and when these ingredients are used, there's not much that can be done to improve its appearance. The combination of bananas, peanut butter and chocolate is irresistibly tasty, but as you can see, they turn the batter a blotchy, muddy tan that is less than pleasing to the eyes. I normally wouldn't bother with something like this, but the bread has such outstanding flavor, that I keep granting it clemency, and bake it over and over again. The recipe was developed by Beth Lipton and I found it at the library in her book, You Made That Dessert?. I really like the earthiness of this bread and I recommend it to you, but with a caution or two. First, do not attempt to make this with natural peanut butter. It is too thin to work as a butter replacement in this recipe. Second, avoid using regular chocolate chips if you can. They will blotch more than the miniatures as the loaf bakes and you'll end up with a hot mess on your hands. Last, and, most important of all, the bread should sit for a day before it is eaten. The flavor improves remarkably when it's given the opportunity to ripen. This is a moist loaf and it keeps well if properly wrapped. I think you will like this. Here's the recipe.
Peanut Butter and Banana Bread with Chocolate Chips and Walnuts
...from the kitchen of One Perfect Bite courtesy of Beth Lipton
Ingredients:
1-1/4 cups all-purpose flour
1 teaspoon baking soda
1/2 teaspoon salt
1/2 cup creamy peanut butter (do not use "natural")
2/3 cup sugar
3 large ripe bananas, mashed
2 large eggs, at room temperature, lightly beaten
1/2 cup chopped walnuts or chopped pecans (optional)
1/2 cup miniature chocolate chips (optional)
Directions:
1) Preheat oven to 350 degrees F. Mist a 5 x 9-inch loaf pan with cooking spray.
2) Whisk flour, baking soda, and salt together in a small bowl until combined.
3) Place peanut butter and sugar in a large bowl. Beat with an electric mixer on medium-low speed until well-blended, about 2 minutes. Beat in mashed banana and eggs; mix well.
4) Using a wooden spoon or flexible spatula, stir flour mixture into the peanut butter–banana mixture, mixing until just combined, scraping down sides of the bowl as needed. Stir in chopped nuts and/or chocolate chips, if using. Scrape batter into the pan and smooth top.
5) Bake 45 minutes. Cover pan loosely with foil and bake 10 to 15 minutes longer, or until a toothpick inserted in center of loaf comes out clean. Cool bread on a wire rack for 10 minutes before removing from pan. It helps to run a paring knife around edges of pan to loosen bread before turning it out. Invert bread onto a wire rack. Carefully turn bread right-side up. When cool, slice and serve. Yield: One 9-inch loaf. Serves 8.
One Year Ago Today:
Peanut and Pumpkin Soup
Two Years Ago Today:
Apple Custard Pie with Streusel Topping
Your might also enjoy these recipes:
Banana-Applesauce Bread - My Kitchen Adventures
Wonderful Pistachio and Banana Bread - Nibbles and Feasts
Vegan Mango and Banana Bread - The Sweets Life
Orange-Glazed Banana Nut Bread - One Perfect Bite
Marbled Banana Nutella Bread - Sugar Plum