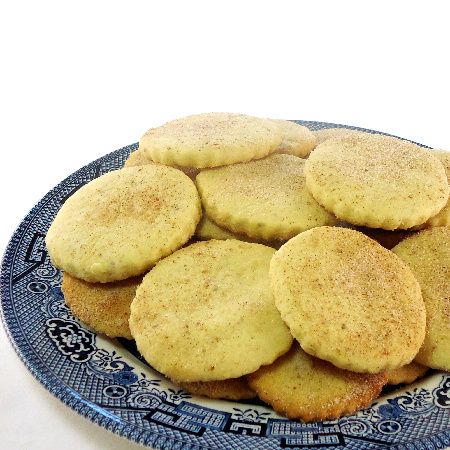 From the kitchen of One Perfect Bite...
I haven't featured a lot of cookies this year. I've been trying to balance my sweet and savory entries, and as a result I've been neglecting them. I'm going to play catch-up this week and focus on
grown-up
cookies from various parts of the world. I don't think these cookies will appeal to children, but if you enjoy afternoon tea, or like a nibble with your wine, I hope you'll stay with me and follow the recipes I'll be posting for the next few days. The first to be featured is a rich anise and butter biscuit that comes from New Mexico. It's believed that the cookies originally came from Spain where they were known as mantecosas. They have the unique distinction of being the first ever confection to be named an official state cookie. New Mexico gave them that honor in 1989 and no holiday or celebration in that state would be complete without them being offered. They are easy to make and they age really well. As a matter of fact, I think they are at their best if made a day before they are served. I have on various occasions doubled this recipe to feed a crowd and when I make them for the Silver Fox and myself, I cut the recipe in half. I know those of you who enjoy European-style pastries will like these. The mild anise flavor is a perfect counterpoint to the buttery taste of the bizcochitos. Here's the recipe.
Mexican Bizcochitos - Anise Butter Cookies
...from the kitchen of One Perfect Bite
Ingredients:
2 cups butter, softened
1-3/4 cups sugar, divided use
2 eggs
1/4 cup thawed orange juice concentrate
4 teaspoons aniseed, crushed or ground
6 cups all-purpose flour
3 teaspoons baking powder
1/2 teaspoon salt
1 teaspoon ground cinnamon
Directions:
1) Preheat oven to 350 degrees F.
1) Cream butter and 1-1/2 cups sugar in a large bowl until light and fluffy. Add eggs, one at a time, beating well after each addition. Beat in orange juice concentrate and aniseed. Combine flour, baking powder and salt. Gradually add to creamed mixture and mix well..
2) Roll out dough to 1/4-inch thickness on a lightly floured surface. Cut with a floured 2-1/2-inch round cookie cutter. Place 1 inch apart on ungreased baking sheets.
3) Combine cinnamon and remaining sugar and sprinkle over cookies. Bake for 12-15 minutes or until golden brown. Remove to wire racks. Yield: 5 dozen.
One Year Ago Today:
Spaghetti Frittata
Two Years Ago Today:
Smoked Salmon Frittata
You might also enjoy these recipes:
Thin Mint Cookies - The Flourishing Foodie
Ginger Cookies - Carrie's Sweet Life
Mojito Cookies - Baking Bites
Salted Caramel Bars - Jane Deere
Pain D' Amande: Italian Almond Cookies - The Hopeful Kitchen
This post is being linked to:
Smiling Sally - Blue Monday