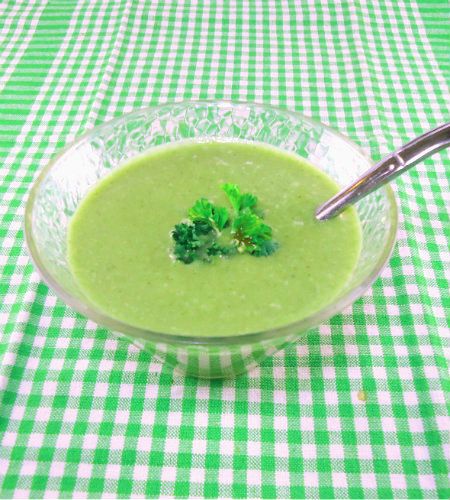 From the kitchen of One Perfect Bite...
I love garlic. It's unique sweetness appeals to me and I use it a great deal in my cooking. My children joke that they have to hide the garlic when I'm making cookies for fear I work a clove or two into the chocolate chips. That being said, I do have a line I won't cross. I suspect I'm one of a handful of serious cooks who actively dislike the French bistro chicken that's made with 40 cloves of garlic. I find it way too sharp to be enjoyable and have learned from repeated attempts to make it, that garlic used in large quantities must be blanched before cooking. The garlic sauce I'm featuring today was developed by Wolfgang Puck and I view it as a gift from the kitchen gods. Our meals are still on the bland side and until the Silver Fox has regained his appetite and can eat more flavorful food, I'm using the sauce to mask the blandness on my plate. The sauce really perks up mildly seasoned versions of chicken, pork and shrimp and makes them palatable. It's a lovely sauce to have on hand, but despite the use of roasted garlic it borders on a bitter sharpness. Fortunately, the first time I made the sauce I remembered that some of the bitterness can be alleviated by blanching the cloves before using them. It really helps here and it's worth the bit of extra time it takes to accomplish the task. To blanch the garlic, you'll need a pot of boiling water and a bowl of ice water. Dump the cloves into boiling water for 30 seconds and then into ice water for the same amount of time. Repeat the procedure one more time, then pat the garlic dry and continue with the recipe. The sauce is a bright green when it's first made but it darkens as it sits and will end up khaki colored. It will keep in the refrigerator for about a week. This is not a sauce for folks who like mild food, but those of you who like a bit of added flavor will really enjoy it. Here's the recipe.

Make-Ahead Garlic Sauce
...from the kitchen of One Perfect Bite courtesy of Wolfgang Puck
Ingredients:
6 ounces garlic gloves, peeled (about 1-1/2 heads)
1-1/2 tablespoons Extra virgin olive oil
2-1/2 cups chicken broth
Kosher salt and freshly ground black pepper
1/4 cup chopped fresh flat-leaf parsley leaves
2 tablespoons chopped fresh thyme leaves
1-1/2 teaspoons chopped fresh oregano leaves
5 tablespoons unsalted butter, cut into small pieces
Instructions:
1) Preheat oven to 350 degrees F. Blanch garlic cloves in boiling water.
2) In small ovenproof pan, toss garlic cloves in the olive oil to coat well. Roast until garlic is an even light golden brown, about 15 minutes.
3) Transfer garlic to a blender, pour in stock, and season lightly with salt and pepper. Process until smooth. Add chopped herbs and butter and continue to process until smooth. Transfer to a container and allow to cool. If made early in day refrigerate, covered, until needed. When ready to serve, reheat the sauce over low heat. Yield: 2 cups.
One Year Ago Today: Strawberry and Rhubarb Crisp
Two Years Ago Today: Pink Lemonade Granita
Three Years Ago Today:
Hasselback Potatoes