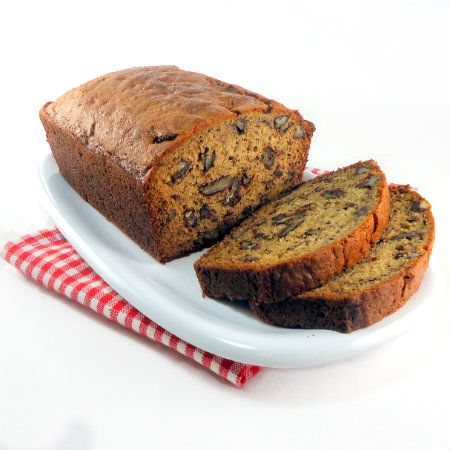 From the kitchen of One Perfect Bite...
This is a quick, easy and dependable bread that can be made in about 20 minutes. This is a great recipe to have when you are working in the usually sub-standard kitchens of dorms, summer cottages or vacation condos. If you have a bowl, a wooden spoon and a strong arm, you'll have a table-ready bread in about 90 minutes. It is also a great recipe for new cooks or teens to try. This loaf is a bit different than many you may have sampled. It uses pure maple syrup as a sweetener and gets a flavor boost from a generous quantity of dried banana chips. The addition of nuts is optional, but they do add a nice touch to the finished loaf. If you're feeling especially festive, glazed walnuts or pecans make a wonderful addition and take the bread to a whole nother level. The bread keeps well for several days, but I suspect it will be gone long before it can stale. Whenever possible, I make the bread the day before I plan to serve it. That gives the disparate ingredients a chance to meld and ripen and assures the bread will have wonderful flavor. I've just made a loaf of this, sans nuts, for the Silver Fox. His sweet tooth has come back to life and he'll be ready for an all-you-can-eat buffet any day now. That's awfully nice to see. I hope you'll give this bread a try. I don't think you'll regret it. Here's the recipe.
Maple Flavored Banana-Nana Bread
...from the kitchen of One Perfect Bite
Ingredients:
2 cups all-purpose flour
1-1/2 teaspoons baking powder
1/4 teaspoon baking soda
1/4 teaspoon salt
2 eggs
1/2 cup pure maple syrup
1/2 cup vegetable oil
1/4 cup brown sugar
1 cup mashed ripe bananas (about 2 large)
1/2 teaspoon maple flavored extract
1 cup coarsely chopped banana chips
1 cup chopped toasted walnuts or pecans (optional)
Directions:
1) Preheat oven to 350 degrees F. Grease a 9 x 5-inch loaf pan. Set aside.
2) Combine flour, baking powder, baking soda and salt in a medium bowl; set aside.
3) Beat eggs, maple syrup, oil, maple extract and brown sugar in a large bowl. Stir in bananas. Gradually stir in flour mixture, just until moistened. Fold in banana chips and walnuts. Scrape mixture into prepared pan. Level with an offset spatula.
4) Bake 50 to 55 minutes, or until a toothpick inserted in center comes out almost clean. Cool in pan 10 minutes; remove from pan and cool completely on wire rack. Yield: 1 loaf.
One Year Ago Today: Shaved Asparagus Salad with Aged Gouda and Hazelnuts
Two Years Ago Today: Goat Herder's Mac n' Cheese
Three Years Ago Today: Coffee and Walnut Snack Cake