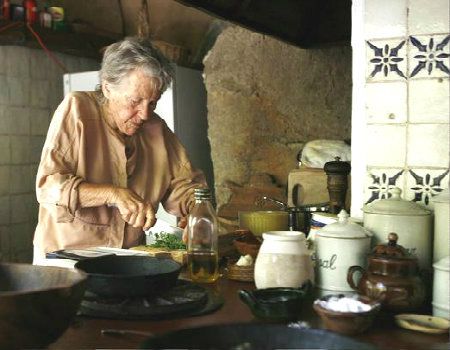 Diana Kennedy in her kitchen.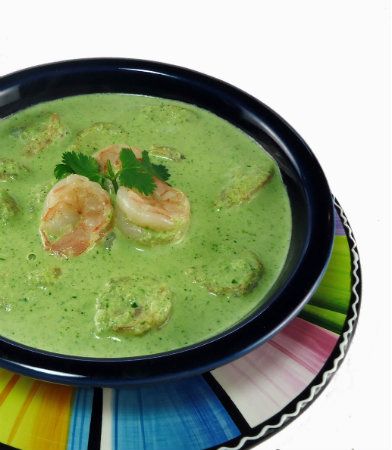 Camarones en Pipian
From the kitchen of One Perfect Bite...
Diana Kennedy is often called the Julia Child of Mexico. That can't be argued, nor should it be. She has explored the food of Mexico as thoroughly as Julia did that of France, but there is an added dimension to her work that can't be overlooked. While she is a writer of the highest order, her commitment to saving the native recipes of Mexico also places her in the ranks of food anthropologists. Now 87, she occupies a seven acre jungle retreat in Michoacan, Mexico, that can be found only by those willing to travel rough dirt roads through dense jungle bush. British by birth, she moved to Mexico in 1957 when her husband, a foreign correspondent for the New York Times, was assigned to the region. For the next decade, she informally studied Mexican cuisine, recording its recipes and the ingredients that made it so unique. She carried that knowledge with her when she returned to New York City following the death of her husband. Like a handful of other women who made the Gourmet Live list of 50 Women Game Changers in Food, she fell under the protective but prodding wing of Craig Claiborne, who convinced her to teach and write about the unique cuisine she had mastered. She has done an incredible amount of writing since then and information about all seventeen of her books, can be found on the Good Reads or the Eat Your Books websites. Since the 1972 publication of her first book, The Cuisines of Mexico, she has been recognized as a leading authority on authentic Mexican food. She has been teaching and writing and traveling ever since. Mexico considers her to be one of its greatest food heroes and has awarded her its highest honor, the order of the Aztec Eagle. Her mission has been like that of Elizabeth David, but she has not received the recognition or laurels that came David's way. True Mexican food has not captured the public imagination and that has left Kennedy like a prophet without honor in her own land. Still, she carries on. Jason Beaubien did a wonderful interview with her for NPR that you might like to read when you have some extra time. You can find it here. Gourmet Live also has a wonderful feature that fans of Diana Kennedy will enjoy. It can be found here.
From the thousands of recipes she has collected, I wanted to feature one that used ingredients that could be found in any large local supermarket. I chose her recipe for Camarones en Pipian, which she adapted from a meal she had at Restaurante Las Diligencias in Tampico. It is fast, easy and delicious, though I personally felt it was a bit heavy on the serrano chiles. The roasted and pulverized pumpkin seeds add wonderful depth of flavor to the sauce and make the dish truly unique. I think those of you who try this will be really pleased. Here's the recipe.

Camarones en Pipian
...from the kitchen of One Perfect Bite courtesy of Diana Kennedy
Ingredients:
1-1/2 pounds shrimp, unshelled
2-1/2 cups cold water
1 teaspoon salt
1 cup hulled, raw pumpkin seeds
1 small bunch cilantro, roughly chopped
4 fresh serrano chiles, roughly chopped-with seeds
1/2 small white onion, roughly chopped
1 tablespoon unsalted butter
2/3 cup Mexican crema (or creme fraiche)
Directions:
1) Shell and devein shrimp, reserving shells, tails and any heads to make broth. Place shells in salted water and simmer over medium heat for about 20 minutes. Strain out shells and cook shrimp in broth until barely opaque. Drain shrimp, reserving broth.
2) In a heavy, un-greased skillet, toast pumpkin seeds over low heat, stirring often, until they just begin to swell. Do not brown. Allow to cool a bit then grind them in a food processor or blender, until fine. Add broth, cilantro, chiles and onion, and blend until smooth. There will still be texture.
3) Melt butter in a heavy saucepan, over low heat. Add pumpkin seed sauce and stir constantly for about 3 minutes. Stir in crema and heat through. Taste and add extra salt, if desired. Add shrimp and continue heating for about 5 minutes. Serve with warm, crusty bread for dipping, or with hot tortillas.
The following bloggers are also featuring the recipes of Diana Kennedy today. I hope you'll pay them all a visit. They are great cooks who have wonderful blogs.
Val -
More Than Burnt Toast
, Taryn -
Have Kitchen Will Feed,
Susan -
The Spice Garden
Heather -
girlichef
, Miranda -
Mangoes and Chutney
, Amrita -
Beetles Kitchen Escapades
Mary -
One Perfect Bite
,
Sue -
The View from Great Island
, Barbara -
Movable Feasts
Linda A -
There and Back Again,
Nancy -
Picadillo
, Mireya -
My Healthy Eating Habits
Veronica -
My Catholic Kitchen
, Annie -
Most Lovely Things
, Jeanette -
Healthy Living
Claudia -
Journey of an Italian Cook
, Alyce -
More Time at the Table
Kathy -
Bakeaway with Me
, Martha -
Simple Nourished Living,
Jill -
Saucy Cooks
Sarah -
Everything in the Kitchen Sink
Next week we will highlight the career and recipes of
Gael Greene
. It will be really interesting to see what everyone comes up with. If you'd like to join us please email me for additional information no later than Monday, April 30th.