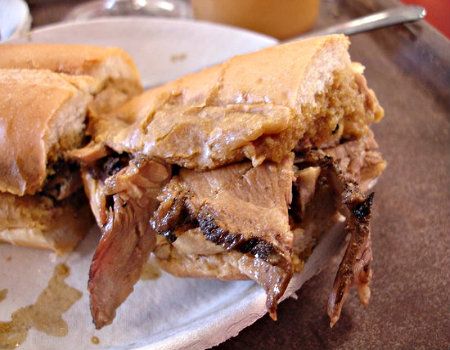 Philippe's Double-Dip French Dipped Sandwich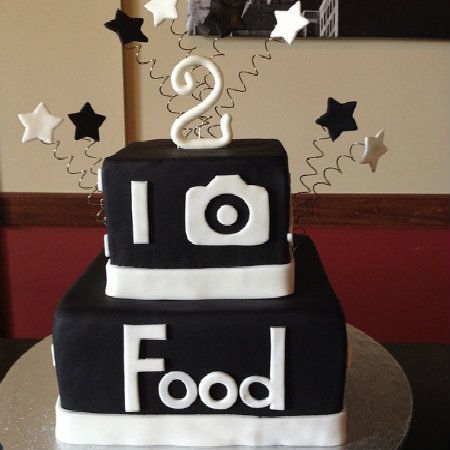 Foodspotting Logo and 2nd Birthday Cake
From the kitchen of One Perfect Bite...
Foodspotting is an iPhone application that allows diners to size-up or review restaurants by using photos of the food they are served. The website, which was launched in 2010, now contains over 600,000 photos of dishes that have been uploaded by diners who are also known as spotters. The comapnay was founded by....

Alexa Andrzejewski, whose vision led to its creation.

Ted Grubb, whose technical expertise made it possible
.
Soraya Darabi, a social media expert who made it work.

Now, in its second year, the company employs ten people. Alexa and Soraya made the Gourmet Live List of 50 Women Game Changers in Food. Two out of three isn't bad, but it seems strange to separate these three. I guess biology is destiny.
Using a convoluted path whose details I will spare you, I selected Philippe's restaurant and its famous French Dip sandwich to highlight the work that is done on Foodspotting. "Philippe The Original, is one of the oldest and best known restaurants in Southern California. It was established in 1908 by Philippe Mathieu, who claimed the distinction of having created the "French Dipped Sandwich." One day in 1918, while making a sandwich, Mathieu inadvertently dropped the sliced french roll into the roasting pan filled with juice still hot from the oven. The patron, a policeman, said he would take the sandwich anyway and returned the next day with some friends asking for more dipped sandwiches. And so was born the "French Dipped Sandwich," so called either because of Mathieu's French heritage, the French roll the sandwich is made on or because the officer's name was French. The answer is lost to history." Fortunately, the recipe is not.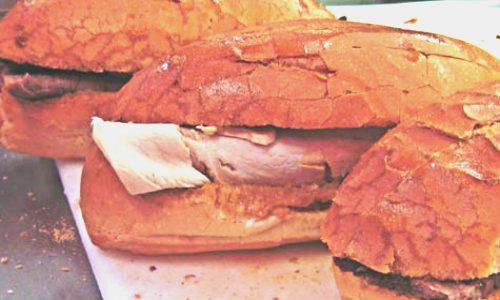 French Dip Sandwich
...from the kitchen of One Perfect Bite courtesy of Philippe's via Foodspotting
Ingredients:
1 (4-pound) beef rib eye, sirloin, or tenderloin roast
1/2 cup coarsely-ground black pepper
Dipping Sauce (recipe follows)
8 French rolls
Butter
Directions:
1) Preheat oven to 425 degrees F. Place beef roast onto a rack in a shallow baking pan; firmly press pepper onto roast. Bake, uncovered, 30 to 45 minutes or until thermometer in the thickest part of roast registers 135 degrees F. Remove from oven and transfer onto a cutting board; let stand 15 minute before carving; slice beef thinly.
2) Reserve juice and pour into a medium saucepan. Prepare Dipping Sauce.
3) For each sandwich: Cut French rolls in half. Toast and butter each French roll. Layer about 1/2 pound of sliced beef on bottom slice of each roll; place remaining tops of rolls on top of the beef. Slice sandwiches in half and serve on individual plates with a small bowl (1/4 cup) of hot Dipping Sauce. Makes 8 sandwiches.
Dipping Sauce
Ingredients:
Drippings from cooking pan
1 (10.5 ounce) can beef broth
1/2 cup water
Salt and pepper to taste
Directions:
In a medium saucepan, add beef drippings, beef broth, water, salt and pepper; bring just to a boil. turn off heat, cover, and let site 10 minutes before serving.
The following bloggers are also featuring the recipes associated with Soraya Darabi and Alexa Andrzejewski of Foodspotting. I hope you'll pay them all a visit. They are all great cooks who have wonderful blogs.
Val -
More Than Burnt Toast
, Taryn -
Have Kitchen Will Feed,
Susan -
The Spice Garden
Heather -
girlichef
, Miranda -
Mangoes and Chutney
, Amrita -
Beetles Kitchen Escapades
Mary -
One Perfect Bite
,
Sue -
The View from Great Island
, Barbara -
Movable Feasts
Linda A -
There and Back Again,
Nancy -
Picadillo
, Mireya -
My Healthy Eating Habits
Veronica -
My Catholic Kitchen
, Annie -
Most Lovely Things
, Jeanette -
Healthy Living
Claudia -
Journey of an Italian Cook
, Alyce -
More Time at the Table
Kathy -
Bakeaway with Me
, Martha -
Simple Nourished Living,
Jill -
Saucy Cooks
Sarah -
Everything in the Kitchen Sink
Next week we will highlight the career and recipes of
Julie Powell
. It will be really interesting to see what everyone comes up with. If you'd like to join us please email me for additional information no later than Monday, May 28th.