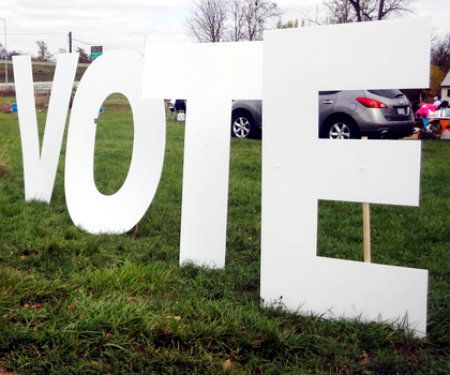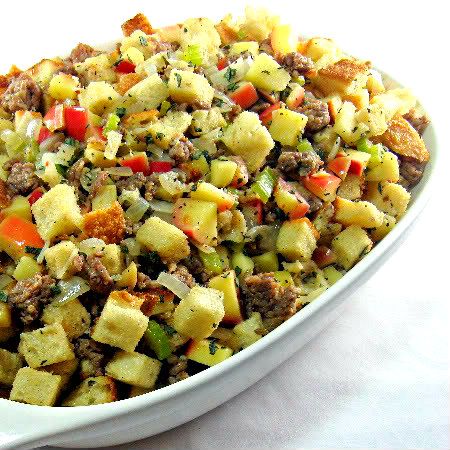 From the kitchen of One Perfect Bite...

This is a perfect dressing to serve with a cider brined turkey like the one I featured yesterday. While there is some chopping involved, the dressing is easy to make and it is a perfect accompaniment for turkey on Thanksgiving Day. While I prefer to bake the mixture, it can also be used to stuff the turkey if that is more to your liking. The dressing is flavorful and moist and I know that those of you who try it will be pleased with its unique flavor combination. Here's how it is made
.
Apple, Sage and Sausage Stuffing
...from the kitchen of One Perfect Bite courtesy of Whole Foods
Ingredients:
1 loaf sourdough hearth bread, cut into 1/2-inch cubes (about 11 cups)
1 tablespoon vegetable oil
3/4 pound fresh mild pork or chicken sausage, bulk or removed from casings
4 Braeburn, Gala or other apples, cored and diced
3 ribs celery, thinly sliced
1 large onion, diced
2 tablespoons unsalted butter
2-1/2 cups low-sodium chicken broth
1/3 cup chopped fresh sage leaves
3/4 teaspoon fine sea salt
1/2 teaspoon freshly ground pepper
Directions:
1) Preheat oven to 300 degrees F. Spread bread cubes out on two baking sheets and bake until dried but not browned, about 15 minutes. Transfer to a large bowl.
2) Meanwhile, in a large skillet, heat oil over medium-high heat. Add sausage and cook, breaking up chunks with a spoon, until browned, about 6 minutes. Add apples, celery, onion and butter and cook, stirring occasionally, until apple and vegetables are softened, 8 to 10 minutes more. Add to bread. Stir in broth, sage, salt and pepper.
3) If using mixture to stuff a turkey, cool completely before stuffing. If baking separately, heat oven to 350 degrees F; bake in a buttered casserole dish until lightly browned and crisp on top, 50 to 60 minutes. Yield: 12 to 14 servings.
One Year Ago Today: Poulet au Vinaigre de Romarin
Two Years Ago Today: Stracciatella- Roman Egg Drop Soup
Three Years Ago Today: Bittersweet Chocolate Snowballs