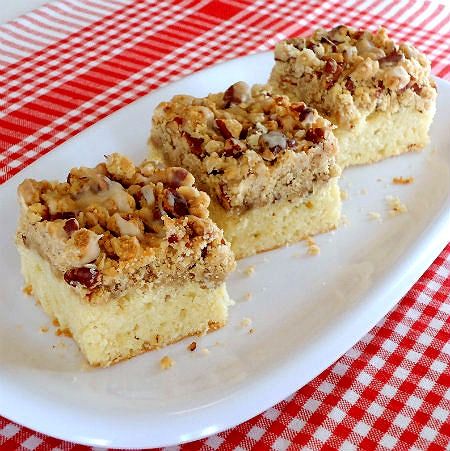 From the kitchen of One Perfect Bite...

I tend to shy away from overly sweet desserts, but I must admit I have a real weakness for coffee cake. I've been testing recipes this past week in an attempt to find something new to serve for breakfast or brunch during the holidays. Fortunately, I'm still in meeting mode, so I have lots of testers and I'm getting lots of feedback about my efforts. When I saw a photo of this cake on the Huffington Post, I knew I had to try it. The recipe was originally developed for Food and Wine magazine and I backtracked to their site for the recipe. At first glance, the recipe appeared overly involved, but as I stepped through it I could see that is was divided into three distinct parts, and none of them was difficult. I decided to give it a try. The finished cake is quite nice, but I found it to be a bit dry. I will be making it again because the flavors are delicious, but I plan to use less flour in the cake and I want to cut back on the amount of streusel that's used to top it. I never thought I'd say a cake has too much streusel, but I've meet my match here. The pecan and cardamom crumbs are delicious, but I think they weigh the cake down and contribute to its dryness. Less would be more. I hope I haven't discouraged you because this is a wonderful coffee cake and I hope you will give it a try. Here's how it is made.
Pecan Streusel Coffee Cake
...from the kitchen of One Perfect Bite courtesy of Food and Wine magazine
Ingredients:
Crumb Topping
2 cups pecans
1 cup unsalted butter, melted
3/4 cup light brown sugar
1/2 cup granulated sugar
1/2 teaspoon ground cardamom
1/2 teaspoon salt
2-2/3 cups all-purpose flour
Cake
3 cups all-purpose flour
1-1/4 cups sugar
1-1/2 teaspoons baking powder
1 teaspoon salt
2 large eggs
1 cup whole milk
3/4 cup unsalted butter, melted
2 teaspoons pure vanilla extract
Glaze
1/2 cup confectioners' sugar
2 tablespoons unsalted butter, melted
2 teaspoons whole milk
1/2 teaspoon pure vanilla extract

Directions:
1) Preheat oven to350 degrees F. Position a rack in center of the oven. Butter a 9-by-13-inch metal baking pan.
2) To make crumb topping: Spread pecans on a rimmed baking sheet and toast for 8 minutes, until browned. Let cool, then coarsely chop nuts. In a medium bowl, stir melted butter with both sugars, cardamom and salt. Add flour and stir until clumpy. Stir in chopped nuts.
3) To make cake: In a large bowl, whisk flour with sugar, baking powder and salt.
In a medium bowl, whisk eggs with milk, melted butter and vanilla. Add egg mixture to dry ingredients and stir until just combined. Scrape batter into prepared baking pan, smoothing the surface. Scatter crumbs in large clumps over cake; crumb layer will be quite deep. Bake for about 55 minutes, until crumbs are golden and firm and a tester inserted in center of the cake comes out clean. If crumbs brown before the cake is done, cover the cake loosely with foil. Transfer pan to a rack to cool.
4) To make glaze: In a bowl, whisk all of glaze ingredients together. Drizzle glaze over cake; let cool slightly. Serve warm or at room temperature. Cake can be kept covered at room temperature for up to 3 days. Yield: 15 servings.
One Year Ago Today: Baked (American) Indian Pudding
Two Years Ago Today: Broccoli Pesto and Pasta with Pesto and Peas
Three Years Ago Today: Cranberry Bread Pudding with Orange Hard Sauce