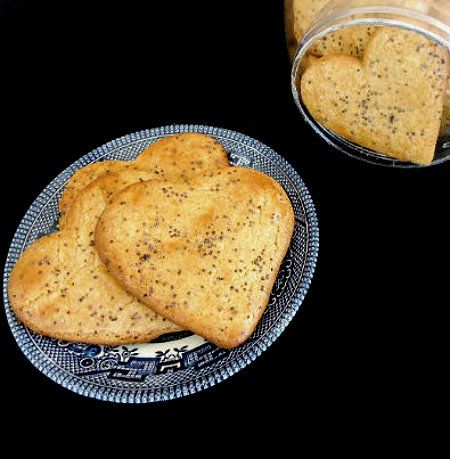 From the kitchen of One Perfect Bite...

Christmas is over, but just as the last of the decorations have been put away, Valentine's Day comes barreling around the corner. This was a major holiday when my children were young, but these days it is a far more subdued affair. I do a little baking and send off some cards, but that is about it. That makes the baking I do even more important to me and I like to try new recipes. I've wanted to make these cookies for a while now and since I was housebound for the day, this seemed like the perfect time to give them a try. The cookies were once part of a holiday collection put together by Midwest Living magazine. I suspect they were lost among the more sparkling holiday cookies featured in the collection, because I've never seen them on any of the other blogs. They were designed to form a garland when strung together and draped on a tree or mantle. Having just removed yards of garlands, I had no intention of using them for decoration, but a quick read of the recipe convinced me I was dealing with a cookie that would be perfect to serve with coffee or tea. The cookies proved themselves to be mildly spiced and crisply perfect for tea, but I encountered some small problems as I made them. When the dough is rolled to the specified thickness, the recipe will never yield the 36 cookies it promises. If the dough is rolled thinner than that, the cookies will be crisp and brown rather than the creamy beige promised by the site photos. These are minor problems and I think you'll enjoy the cookies. If you are looking for a new cookie, you might want to give the hearts a try. Here's how they are made.
Honey and Poppy Seed Hearts
...from the kitchen of One Perfect Bite courtesy of Better Homes and Gardens and Midwest Living magazines
Ingredients:
3/4 cup butter, softened
2/3 cup sugar
3 tablespoons honey
2 teaspoons finely shredded lemon or orange peel
1 teaspoon baking powder
1 teaspoon ground cinnamon
1/4 teaspoon baking soda
1/8 teaspoon salt
1 egg
2-1/4 cups all-purpose flour
1 egg white
1 tablespoon water
2 tablespoons poppy seed
Directions:
1) Lightly grease a cookie sheet. Set aside.
2) In a large mixing bowl beat butter with electric mixer on medium to high speed about 30 seconds. Add sugar, honey, lemon or orange peel, baking powder, cinnamon, baking soda and salt. Beat until combined, scraping sides of bowl occasionally. Beat in egg until combined. Beat in as much of the flour as you can with mixer. Using a wooden spoon, stir in any remaining flour.
3) Divide dough in half. Cover and chill about 2 hours or until dough is easy to handle.
4) On a lightly floured surface, roll half of dough at a time to 1/4-inch thickness. Using a 2-1/2- to 3-inch heart-shaped cookie cutter, cut out dough. Place 2 inches apart on prepared cookie sheet. To later be able to string cookies together with a ribbon, use a straw to make a hole in center of each cookie.
5) In a small bowl beat egg white with water. Brush tops of cookies with egg white mixture and sprinkle with poppy seed.
6) Bake in a 375 degree F oven for 8 to 10 minutes or until edges are golden. Transfer cookies to a wire rack; cool. Makes about 36 (2-1/2-inch) cookies.
One Year Ago Today: Coconut Pudding: Trembleque
Two Years Ago Today: Crock-Pot: Southwestern Sausage and Hominy Stew
Three Years Ago Today: Kou Xiao Gao - Laughing Mouths Open