Salvation Army Food Pantry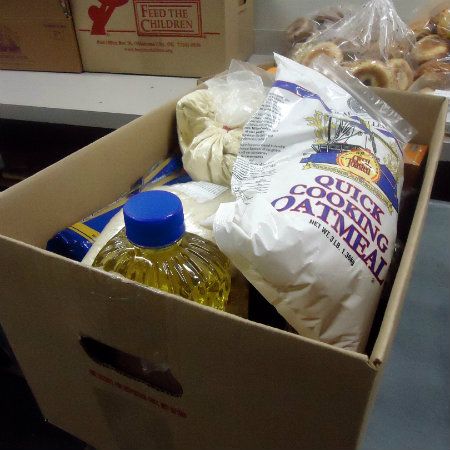 Emergency Food Box
From the kitchen of One Perfect Bite...

I want to start with numbers tonight. Most folks who receive SNAP benefits exhaust them long before the end of the month is reached. While many believe that's because they've squandered their allotments, the brutal truth is the benefits provided by the system are not large enough to feed families or individuals for a full month. Fortunately, at least in most states, there are programs, usually administered by service organizations or groups with religious affiliations, that pick up the slack. Bob and I spent the day visiting food pantries that provide emergency food relief for people in our area. Oregon is a state where chronic unemployment was a problem long before the great recession affected the rest of the nation. That means we had a workable distribution system in place when the rolls of SNAP participants exploded during the recession. While what is done here may not be elegant, the logistics are efficient and surplus food reaches the poor who need the safety net it provides. Our program may not mirror what is done in your state, but because it is the one I know, I want to share it with you. The county in which I live has a large food bank that gleans and gathers surplus food from many sources and makes it available to food pantries throughout the area. Its operation is funded by the county and additional money that comes from fund raisers and individual donations. The pantries are responsible for getting food to those who need it. While they receive surplus food from the county, they are responsible for distribution costs to recipients. The county is divided into geographical distribution areas, and the size and hours of operation vary from one location to another. All, however, share a common distribution policy. There are no true means tests. Recipients must provide proof of an address and sign a declaration of need that is based on family income. There is no waiting period and once that document is signed they are eligible for emergency food assistance. That means they are entitled to one food box a month. A fail safe within the system gives participants access to four additional boxes every year. Recipients do not get to "shop" for the contents of their food baskets. The boxes are put together by agency staff and the contents depend on what is available at the time of the request and the make-up of the family. The value of the box falls within guidelines that depend on the size of the family. A box for one will contain food items worth $25. A box for two is valued at $40, while the box for a family of seven, the limit supported by the program, is $70. Obviously, the food pantries are one place where the system can be scammed. You must, however, remember that most are run by religious organizations and these folks practice the gospel that they preach. Rather than refuse one hungry man, they feed all who come their way. A recognition, perhaps, that hunger of the spirit is even more devastating than that of the body. Most SNAP participants supplement their allotments with food that is provided by food pantries and that makes them an important weapon in the fight against hunger. They are a godsend for the working poor.
Menu for SNAP Challenge Day Three
Breakfast
Orange Juice
Coffee
* Maple Baked Oatmeal with Milk
Corn Muffins
Lunch
Leftover Potato Soup
Open-Faced Toasted Cheese Sandwiches
Dinner
Small Tossed Salad with Oil and Vinegar Dressing
* Chicken and Noodle Casserole
Recipes for the Day:
Chicken Noodle Casserole
Ingredients:
White Sauce
2 tablespoons all-purpose flour
2 tablespoons margarine
1-1/2 cups milk
1/2 teaspoon salt
1/4 teaspoon pepper
Juice of half a lemon lemon
1 teaspoon dried tarragon or thyme leaves
1/2 cup grated Parmesan cheese
Meat
2 tablespoons cooking oil
2 cups diced chicken
Casserole Mixture
1 cup frozen peas and carrots, thawed and drained
4 cups cooked egg noodles
1/2 cup shredded cheese (i.e. Cheddar, American, Colby)
Directions:
1) Preheat oven to 400 degree F. Lightly spray a 1-1/2 quart casserole with cooking spray. Set aside.
2) To make white sauce: Melt margarine in a 2-quart saucepan. Stir in flour and cook until foam subsides, about 2 minutes. Whisk in milk and bring to a boil over medium heat, stirring constantly. Simmer for 10 minutes. Add lemon juice, tarragon and Parmesan cheese and stir until smooth. Adjust salt and pepper to taste.
2) To prepare chicken: Lightly season chicken with salt and pepper. Heat oil in a skillet until it shimmers. Add chicken and saute until it is no longer pink. Transfer chicken to prepared casserole dish.
3) To assemble casserole: Stir vegetables, chicken and noodles into white sauce, mixing well. Turn into prepared casserole dish. Top with grated cheese and bake for about 30 minute, or until heated through and cheese has melted. Yield: 4 servings.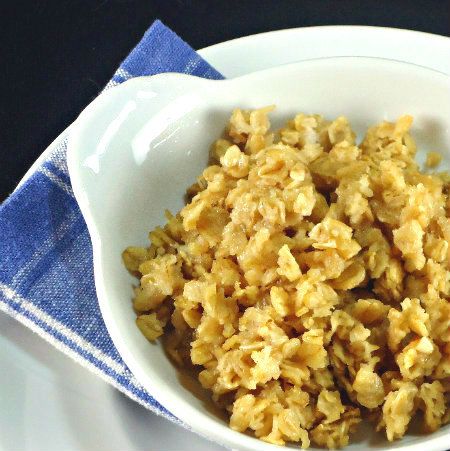 Maple Baked Oatmeal
Ingredients:
2 tablespoons butter or margarine
1-1/2 cups old-fashioned oatmeal
1 teaspoon baking powder
1/2 teaspoon salt
3/4 cup milk
1/4 cup maple-flavored syrup
1 egg, slightly beaten
1/2 teaspoon vanilla extract

Directions:
1) Preheat oven to 350 degrees F. Place margarine in a 9 x 4 x 3-inch bread pan and place in oven to melt.Do not allow to burn.
2) In a large mixing bowl, whisk together oats, baking powder, and salt. In a separate bowl, mix together milk, maple syrup, eggs, and vanilla.
3) Pour wet ingredients into dry ingredients and mix well, making sure oats are completely moistened.
4) Remove bread pan from oven and pour oat mixture into it. Stir mixture until most of margarine is incorporated.
5) Bake for 30 minutes, or until edges are golden. Serve hot with additional milk. Yield: 3 servings.
One Year Ago Today: Rum Raisin Biscuits
Two Years Ago Today: Minced Chicken with Oyster Sauce
Three years Ago Today: Roasted Garbanzo Beans with Cajun Spice