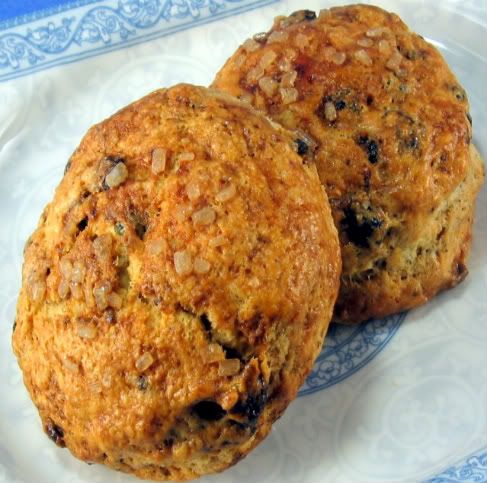 What to serve with tea for two or three or more? Tea biscuits are highly recommend. Ours, while just barely sweet, are kissed with lemon sugar and packed with blueberries. Making them requires a little forethought. You'll need lemon sugar but it's easy enough to make and can be used to flavor both the tea and the biscuits. I keep a small stash of the sugar in the refrigerator, so I can whip these up in no time at all. The biscuits keep for several days but they should be warmed and crisped before eating. They can be served for breakfast, brunch or my favorite meal "munch." We'll start with the lemon sugar and then move on to the tea biscuits which are adapted from Ina Garten's recipe for scones.
Lemon Sugar
Ingredients:
2 teaspoons finely grated lemon zest
1 cup sugar

Directions:
1) Work lemon zest into sugar with your fingers until well mixed.
2) Spread sugar in a large pan and let sit until dry, about 1 hour.
3) Store in a sealed, airtight container and use as need

Blueberry and Lemon Tea Biscuits
Ingredients:
2 cups + 1 tablespoon flour
1/4 cup lemon sugar, divided use
1 tablespoons baking powder
1 teaspoons kosher salt
1-1/2 sticks (6-oz.) cold butter, diced
2 eggs, lightly beaten
1/2 cup cold heavy cream
1 cup dried blueberries
1 extra-large egg beaten with 2 tablespoons milk or water, for egg wash
Directions:
1) Preheat the oven to 400 degrees F. Line cookie sheet with parchment paper. Set aside.
2) Combine 2 cups flour, 2 tablespoons lemon sugar, baking powder, and salt in bowl of an electric mixer fitted with a paddle attachment. Add butter and blend at low speed until mixture resembles small peas. Combine the eggs and heavy cream in a small bowl; add to flour mixture and mix until just blended. Dough will be sticky. Toss blueberries with reserved tablespoon of flour. Fold into dough.
3) Turn dough onto a floured surface. Knead only until smooth. Roll into a 1-inch rectangle. Using a 3-inch cutter, cut into rounds. Place on cookie sheet.
4) Brush top of biscuits with egg wash and sprinkle with reserved 2 tablespoons lemon sugar Bake for 20 to 25 minutes until outside is brown and crisp. Yield: 12 to 16 biscuits.