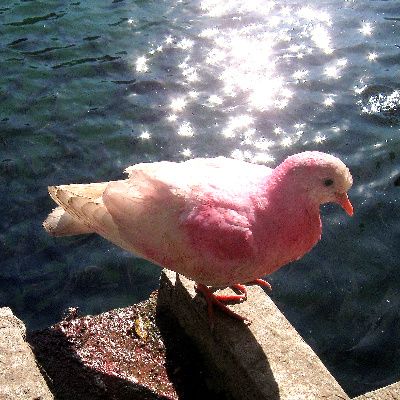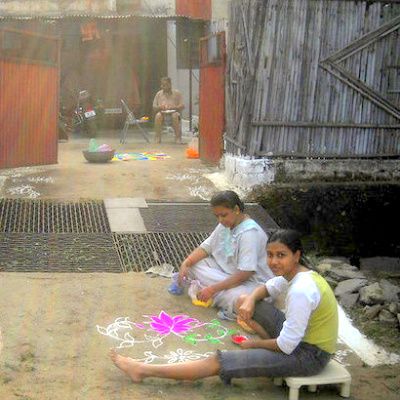 From the kitchen of One Perfect Bite...
All of today's pictures are linked to Diwali, the Hindu holiday that celebrates the return of Lakshmi, the goddess of prosperity. The holiday is much like our Christmas with odd bits of Independence Day and Halloween thrown in. Please understand, I mean no disrespect. Lanterns are lit, families gather and gifts are exchanged during this joyous celebration of light. Firecrackers are used to frighten away evil spirits that might threaten the return of the goddess and children go door to door seeking a reward for the entertainment they provide. The cookie, called a Nānkhatāi, is an eggless shortbread that has a sandy texture. It is sold during the holiday by street vendors who specialize in sweetmeats and other treats. The pigeon is another story. The bird is not a mutant. He is one of many that have been tinted for Diwali. Why? I'm clueless and have been unable to find anyone who can give me a sensible answer. The design being created on the street outside the fence is called a rangoli and it's meant to welcome visiting deities. It, and thousands like it in other Hindu homes, will be lit at night with myriad small lanterns that will give streets the appearance of being swarmed by fireflies or glow worms. It is quite a sight. While I was able to sample most of the foods associated with Diwali, I missed these cookies and wanted to try them once I returned home. I made them today and I must say I'm not thrilled with the results. The cookie is fine, but, with so much good shortbread around, it merits only a lukewarm review. I decided to post it with reservations because it is a Indian dessert and I wanted to conclude my tour of India with something sweet. I'll let you be the judge of its merits. Here's the recipe.
Nānkhatāis
...from the kitchen of One Perfect Bite courtesy of Culinary Annonations
Ingredients:
1/2 cup confectioners' sugar
1/2 cup refrigerated ghee (clarified butter) or unsalted butter
1/2 teaspoon pure vanilla extract
1/2 cup unbleached all-purpose flour (maida)
1/2 cup semolina flour (rava)
3/4 teaspoon ground cardamom [or 1/4 teaspoon ground nutmeg]
3/4 teaspoon baking powder
2 tablespoons chopped nuts for topping
Directions:
1) Line a cookie sheet with parchment or wax paper. Pre-heat oven to 325 degrees F.
2) Sift confectioners' sugar into a mixing bowl. Add refrigerated ghee/butter and cream mixture until fluffy. Add vanilla and mix to incorporate.
3) Sift flour, semolina and baking powder into another bowl. Whisk in cardomom. Add flour mixture to creamed mixture in two parts. Once a cookie dough forms, transfer it to a cold working surface and knead a few times. Break dough into 20 equal-sized portions and shape into flattened rounds. Make a thumb impression in center of each and press in a few pieces of nuts.
4) Bake cookies for about 20 to 25 minutes. Check at 20 minute interval to ensure that cookies do not brown or develop any deep color. Be aware that these cookies will crack slightly. That is as it should be. Cool on wire racks. Store airtight. Yield: 18 to 20 cookies.
You might also enjoy these recipes:
Semolina and Almond Salwa - eCurry
Gulab Jamun - Phem Fatale
Strawberry Busundi - Food Lyrics
Milk Cake - The Vegetarian Way
Pumpkin Kulfi - Eggless Cooking
Rasmalai - The Inner Gourmet
This post is being linked to:
Pink Saturday
, sponsored by Beverly at How Sweet the Sound.